Mumbai based What's-On-India, an Indian TV Guidance and EPG Company, has launched an iPhone application that features program details of more than 500 TV channels. Out of the 500+ channels, there are hundred plus news channels, over fifty movie and general entertainment channels, music channels, sports, infotainments, kids channels and specialist channels in genres such as food, crime and education.
In an exclusive interview with TechCircle.in earlier, Abrar Shaikh, general manager, What's-On-India had talked about the company's plans of entering the apps ecosystem for different connected devices.
Viewers have the option to go through program details across different languages, genres as well as search by date, time and star cast.
With the app, users can view schedules of all channels for a week ahead in advance. They get program details and synopsis, premier information, trending programs, editor's Picks and a movie wall. Users also have an option of setting their favourites channels and programs and setting reminders and alerts for future airing.
A classification section has also been included. The classifications includes genres, actors, subgenres and language (the app covers programs of all major languages like English, Hindi, Telugu, Tamil, Marathi, Malayalam, Bengali, Kannada, among others).
Additionally, What's-On-India's proprietary WOI-Ratings have been provided to help the user in selecting which program to watch and exclusive sections directly powered by major TV channels and networks have also been included.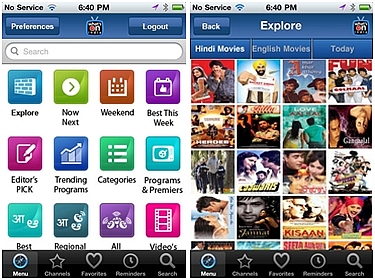 "More and more, TV consumption is becoming a two-screen experience, where viewers are engaging with another device while watching TV.  Our mobile apps are making it easier for TV addicts to decide which shows to watch. If you have an iPhone with iOS 3.1 or higher then you can download the free app directly from the iTunes store," said Abrar.
The company claims that the app has already had more than a thousand downloads within the first few days of its launch.
The company already has an Android app that it had launched a few weeks back. Earlier this year, the company had launched a collection of Electronic Program Guide solutions called EPG-On-The-Cloud.
---