Airtel Announces Free Mobile Access To Twitter Till March 2012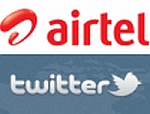 Bharti Airtel has announced that its mobile subscribers in India can now access Twitter on their mobile phones for free till 1st March 2012, irrespective of the fact whether their GPRS is activated or not. Even without GPRS, subscribers can sign up for Twitter or subscribe to SMS updates of specific users (via short code 53000) on their mobile phones.
N Rajaram, chief marketing officer, consumer business, Bharti Airtel said, "Today's discerning Indian customer is increasingly relying on the mobile device for accessing everything from emails to music to social networks. In conjunction with this trend, we are introducing 90 days of free access to Twitter for mobile users in India."
Users can access Twitter in the following ways
Twitter mobile website: They can visit mobile.twitter.com (with or without GPRS subscription) and follow the sign up process.
Create new account on Twitter on SMS:  They can also create new account by SMSing 'START' to 53000 and replying to messages that are sent back to them. These messages will basically ask the user to select a username and password (like it is asked in the online signup process) and once Twitter approves the details provided by the user, the Twitter account will be created. Sign up is only required if a user wants to tweet.
Follow specific Twitter users on SMS: You can also choose to receive updates from specific users (like Bill Gates or Sachin Tendulkar etc). For doing that, users will have to SMS 'Follow ' to 53000. Users can follow others on Twitter on SMS irrespective of whether they have a Twitter account or not.
Additionally, existing Twitter users can view their timeline, find and follow accounts, post new Tweets, see Tweets mentioning them and reply to other users and retweet their Tweets. This is the first of its kind offering from the telco and the company must be hoping to bank in on the growing popularity of Twitter in India.
Comment(s)