Is GoIbibo The Fastest & Does It Really Matter?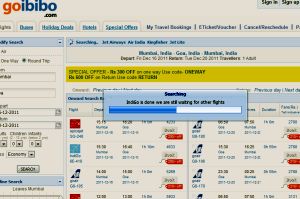 Over the past five years, planning a vacation has become smoother and easier, so much so that checking for deals on flight tickets has become a second nature to many of us. The price-wars across online travel agencies such as MakeMyTrip, Cleartrip and Yatra have done consumers a world of good too.
Online flight ticketing website GoIbibo.com first claimed to be the fastest and cheapest of online travel portals in India. Its recent advertisements now position it as the fastest.
We decided to test if GoIbibo is the fastest, and this is what we found:
For a round trip between Mumbai and Goa, 5 days apart, it took GoIbibo.com 6:11 seconds to complete the search. In comparison, Cleartrip took 6:8 seconds, Makemytrip took 10:87 seconds and Yatra.com made it at 6:41 seconds.
The real question is - does speed even matter? Broadband and 3G in India are still rare commodities and the average Indian is more than willing to forego speed and choose the best price. And there the story is an open secret. A typical online user will check the prices of the same flight across 2-3 of these websites. Some will go a step beyond and check the prices on the airline's website to find an even cheaper option. The prices on these OTAs differ according to various factors such as the date, route and flight times as well as the fluctuating rates by carriers themselves, and hence cannot be compared generically.
So it's not a surprise that none of the leading OTAs today claim to have the lowest priced deals anymore. Many have moved onto position their brands to showcase the more qualitative aspects of trips rather than focus on the price factor. Makemytrip's ad is about 'Making Memories', Yatra.com has chosen to go with 'Creating Happy Travellers' and Cleartrip's 'Every Trip Has A Purpose'. To woo users, they still use catchy keywords and search engine optimisation. But MakeMyTrip's header now just says 'Flights, Cheap Hotels' while Yatra's is 'Flights, Cheap Air Tickets' and Cleartrip's is 'Cheap Air Tickets'. In comparison, GoIbibo continues to use terms like "Cheapest Airfare" and "Cheapest Flights in India". Gofigure!
Comment(s)