Tired Of Touchscreen Mobiles? Try These Instead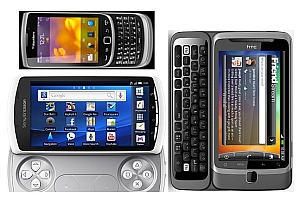 Gone are the days when cell phones were simple yet handy devices, letting you stay in touch even when you were on the move. The smartphone revolution happened soon enough and touchscreen phones have taken over since – loaded with useful features and considered a lifestyle product by many.
Thanks to the growing popularity of touchscreen phones, handset manufacturers across the globe have abandoned traditional designs in favour of those funky devices (for instance, Motorola is focusing more and more on touchscreen phones instead of the clam-shell design that made them a household name). But touchscreen phones almost always have their fair share of snags and troubles.
Frequent users know only too well that the touchscreen often gets smudges all over it due to dust and finger marks. And that eventually makes trouble when you try to use the virtual keyboard. Plus the phone surface tends to get oily/wet (especially in a hot and humid climate like ours) after you have had a long chat and when that happens, the touchscreen is certainly not performing at its best. Of course, you have the option to use a stylus, but almost everyone agrees that you may either lose it or break it if you are using it too frequently.
Also, earlier using the virtual pad was in itself a tricky thing to do, but with the launch of so many new devices (with variable screen sizes), that problem has been somewhat resolved, since now there is a screen size that compliments the different hand sizes of users.
So what happens if someone doesn't want a touchscreen phone, if he/she is tired of tapping on a screen all day long and wants a break? We have done a little digging and found some interesting options for those who want to overcome touchscreen limitations.
High-priced Phones (above Rs 20,000)
Here are a few hi-end phones that offer you more than just touch. Some of these feature slide-out keyboards (either compact or a full-size QWERTY keyboard) while others provide the 'touch and type' option.
BlackBerry Torch 9810
It is an upgraded version of the original BlackBerry (BB) Torch 9800 and offers a full touchscreen plus a slide-out QWERTY keyboard. You can use the touchscreen for basic functions and still make good of the keyboard for typing and texting. Other features include a 3.2 inch capacitive touchscreen, BB OS 7.0 and a 1.2 GHz processor. It has 768 MB of RAM and 8 GB of internal memory which can be expanded up to 32 GB with the help of a microSD card.
This device comes with a 5 MP autofocus camera and LED flash that records high definition (HD) videos (720p) and also has Bluetooth, Wi-Fi, 3G and a microUSB port. It has a 1270mAh battery, is available in black & grey and costs Rs 31,210.
HTC Desire Z
This one offers a convenient, slide-out style QWERTY keyboard besides a 3.7 inch capacitive touchscreen. It runs on Android 2.2 (Froyo) OS (upgradable to 2.3), is powered by an 800 MHz processor and has 512 MB of RAM. Internal memory is 1.5 GB which can be expanded.
Desire Z features a 5 MP autofocus camera with LED flash that records HD videos (720p) and comes with Bluetooth, Wi-Fi, 3G, a microUSB port and a 1300mAh battery. It's priced at Rs 24,390.
BlackBerry Bold 4
The second entrant in the list is again from the stable of RIM. Many users complain that a slide-out keyboard makes a mobile device quite bulky and hence uncomfortable, to carry around. But BlackBerry Bold 4 solves this problem by providing a touchscreen and a QWERTY keyboard in the same device, without adding unnecessary depth to the mobile phone. So basically, the device remains quite sleek and it's just the screen that doubles up as a touchscreen. Hence the name, 'touch and type.'
Bold 4 has a 2.8 inch capacitive touchscreen, runs on the same OS as Torch 9810 and is powered by a 1.2 GHz processor. It has 768 MB of RAM and 8 GB of internal memory that can be expanded.
BlackBerry Bold 4 has a 5 MP autofocus camera with LED flash that records HD videos (720p) and also features Bluetooth, Wi-Fi, 3G, NFC (near-field communication) and a microUSB port. The device has a 1230mAh battery and is available for Rs 33,360.
Sony Ericsson Xperia PLAY
Unlike its counterparts, this one features slide-out style gaming controls that add a unique flavour to the touchscreen mobile phone. It is the first PlayStation-certified mobile phone to hit the market and although it didn't quite strike the cord among Indian users, you can opt for it if you are looking for something different. Best of all, the device promises a hands-on gaming experience.
Xperia PLAY comes with a 4 inch capacitive multi-touch screen, a 1 GHz processor and 512 MB of RAM while it runs on Android 2.3 Gingerbread OS. Internal memory amounts to 400 MB that can be expanded with a microSD card. It also features a 5.1 MP camera (it can record videos but not HD quality videos), Bluetooth, Wi-Fi, 3G and a microUSB port. It is powered by a 1500mAh battery and you can buy it for Rs 21,999.
Another handset from the company with touchscreen and a slide-out keyboard is Xperia Pro, priced at Rs 24,000.
Mid-range Phones (Rs 10,000-Rs 20,000)
You have quite a few options in terms of variety when it comes to mid-range phones available here. In fact, you can break free from the touchscreen tyranny and focus instead on basic handsets, slider phones, flap/clam-shell phones and QWERTY phones. Since these devices don't come with hi-end specs, we will simply mention some of the best brands and models (and prices, of course) currently ruling the Indian market.
Sony Ericsson's Xperia mini pro (Rs 15,400)
Nokia's E6 (Rs 17,499), E5 (Rs 10,000), C6 (Rs 13,190)
BlackBerry's Pearl 3G (Rs 14,449) and Curve 9360 (Rs 19,210)
HTC's ChaCha (Rs 15,050)
Back To The Basics
Finally, as we go down the price range (below Rs 10,000), you will come across more handsets which are not touchscreen phones. And it is always good to know that there is a plethora of options in case you are not too fond of geeky gadgets and simply looking for an easy-to-use, utility device.
But we have to understand that every design has a product life cycle. There was a time when clam shell phones were the rage (remember when everyone had a Motorola Razr), then came the QWERTY storm (with players like BlackBerry and Nokia) and now it's all about touchscreens. What's next? Maybe phones that you don't even need to touch (gestures controlled devices). But till that actually happens, you can opt for one of these the next time you are struck with touchscreen woes.
Comment(s)