Twitter Introduces Revamped Version: What's New?

Social networking and micro-blogging site Twitter has revamped itself. The changes are applicable to both Twitter.com as well as the mobile site. TweetDeck has also been updated so that it is consistent with the revamped version. Let's have a look at what has changed.
For Users
Embedding a Tweet: Users can add Tweets to their website by simply copying and pasting a line of code. The website's visitors will see a Tweet that focuses on the content by surfacing the conversation and media. Visitors will also be able to follow the author with a single-click, and reply, retweet, or 'favourite' the Tweet without leaving the page
Enhanced Tweet and Follow Button: Last week the site had changed the look of the Tweet and Follow Button and they have now made changes to their functionality. The new #hashtag button will emphasize to visitors that an interesting conversation is happening on Twitter and will allow them join in with just one click. The @mention button on the other hand will encourage visitors to Tweet to your account, hence driving public conversation directly from your website.
New tabs:

Home:
It is now easier and faster to access features from the left-hand side. Also, photos, videos and conversations are embedded directly in Tweets so users can view the whole story at a glance.
Connect: This is where users can get in on the conversation. Users can view who has followed or mentioned them and retweeted or favorited one of their Tweets.
Discover: This allows the user to access specific information like results reflecting the user's interests (based on their current location, what they follow and what's happening in the world).
Me tab: Others can Tweet directly to you or view your lists, favourites, followers, photos etc. (doesn't this remind you of a certain Facebook).
New Tweet button: This button allows the user to share what's happening around them. They can upload photos, add their location and link to videos, news stories, among others.
For Advertisers
The profile page has been enhanced and now will support a large header image which can be used for displaying logo, tagline or any other visuals. Users can also control the message visitors see when they first come to their profile page. This can be done by promoting a Tweet to the top of your page's timeline. The promoted Tweet will appear auto-expanded.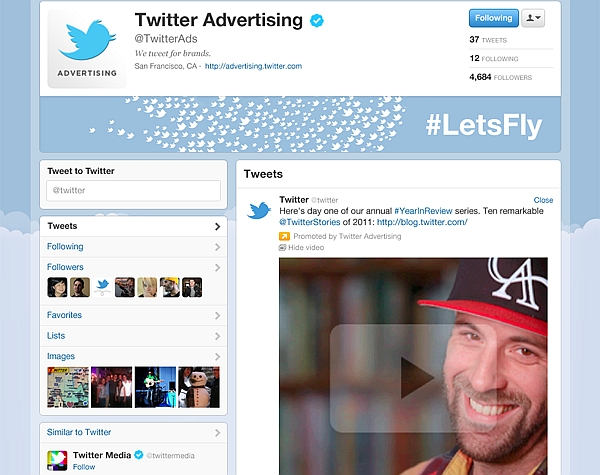 According to the company, 21 brands including @AmericanExpress, @bing, @CocaCola, @DisneyPixar, @generalelectric, @Heineken, @HP, @intel, @McDonalds, among others, have already revamped their profile pages.
The redesigned version of Twitter will be rolled out over the next few weeks, although users can see the changes immediately on the updated versions of mobile.twitter.com and Twitter for iPhone and Android. The company has also stated that they will add more features to the site in the New Year.
Comment(s)