Microsoft has unveiled the Windows app store for the devices on Windows 8 operating system. The app store will be made available when Windows 8 Beta is released next year and all apps during the Beta period will be free apps.
Windows store will have Metro style applications and the company has already announced a First Apps contest which will provide the developers with a chance to have their app featured in the Windows Store for Beta.
"In September, we announced the Windows Store as part of Windows 8 and the distribution point for Metro style apps. And we are now confirming that we're inviting a select set of developers to submit Metro style apps for inclusion in the Beta version of the Store," wrote Antoine Leblond, Vice President of Windows Web Services, in a blog post.
The registration fee for the app store is $49 for individual developers, although companies will have to pay $99. Additionally, Microsoft has stated that in general revenue share base is 70 per cent (70 for the developer and 30 for the company), if/when an app crosses the $25,000 mark in terms of revenues; the company will start sharing 80 percent of the revenues generated from that particular app's sales with the app developer.
Discovery
Users will be able to find apps via search, category browse or ranking lists, among others, and they will also get personalized app recommendations and topic pages that promote apps related to editorial themes. The Store app catalog will also be indexed by search engines (Bing, ah that's obvious) for discovery on the Web. Additionally, developers can also promote apps directly from their websites with built-in promotion through Internet Explorer 10.
Reach
The app store will be available across more than 100 languages in 231 different markets worldwide.
"We'll have a number of market-specific catalogs, tailored for those customers, and a 'rest of world' (ROW) catalog for all other markets. Developers can choose the catalogs in which their app is listed, and we will continue to increase the number of market-specific catalogs and payment providers over time as we evolve the Store service," wrote Ted Dworkin, Partner Program Manager for the Store, in a blog post.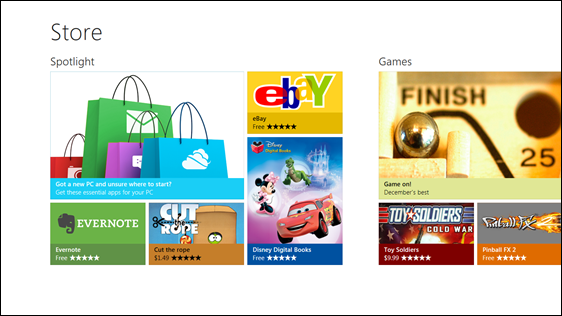 Trials, in-app purchases and in-place trial upgrade will be supported for apps as will be third-party transactions. Also, the company is providing choice in ad controls, which means that developers will be free to use any ad platform, even though it's not from Microsoft.
The most popular app stores available in the market as of now are the iTunes store from Apple, the Android Market from Google and Nokia's very own Nokia Store and it will be interesting to see how the Windows apps store fare against them.
---