AIM-listed MobileWave To Acquire Ariose Software For Up To $1.2M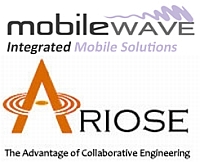 London's AIM-listed mobile marketing, loyalty and technology company MobileWave Group plc is acquiring Ariose Software Pvt Ltd in a deal worth up to $1.2 million (Rs 6 crore). Noida-based Ariose provides software solutions and services for the mobile and telecom industry.
The acquisition will be multi-tiered, with $0.45 million in cash and $0.45 million in convertible preference shares to be paid within five days of closing of the transaction while the remaining amount will be paid over a three-year earn-out period.

Founded in 2006, Ariose has developed 120 mobile solutions and achieved more than 1 million app downloads. The company is profitable and generated revenue of Rs 1.17 crore in the financial year ended March 31, 2011.
Ariose co-founders Amit Goenka (CEO) and Sudhi Agarwal (CTO) will remain as MD and CTO of the company, and both have entered into service agreements.
"MobileWave is enabling us to expand our horizons and our footprint. The management team of Ariose has a good understanding of international markets, having spent a number of years working in Silicon Valley, and we now look forward to benefiting from the significant business development and marketing expertise within MobileWave's senior management team," said Goenka.

The company's services and solutions are used across enterprises (mobile field reporting, field staff automation and utilities), consumer domains (entertainment, infotainment and healthcare), location-based specialisations (navigation, deals and store locator) and mobile commerce (mobile payment and retail). Its solutions, apps and products are effectively used in multiple industries including banking, marketing, payments, publishing, retail, shopping, security, social networks, token and travel industries. It has more than 100 customers, such as One97, Hungama, Nazara, Snapdeal and Manupatra, among others.
Ariose also has its proprietary intellectual property that will be incorporated into MobileWave's enterprise mobility platform. The company is currently working with MobileWave to develop and refine the latter's B2C mobile relationship management platform that will facilitate customer engagement and retention strategies. The company's management team, as well as the team of 40 technical engineers, will remain with MobileWave, reinforcing the latter's leadership team and in-house technical expertise.
Rory Stear, executive chairman of MobileWave Group plc, said, "Ariose has a strong track record of developing effective and relevant mobile solutions, including India's largest e-commerce portal and the largest and most comprehensive online legal and business policy database, as well as being the first company to develop mobile payment across various platforms. This partnership provides a significant growth opportunity for MobileWave."

---