Mojostreet Crosses The 15,000 Downloads Mark In Just 2 Weeks

Mojostreet, a location based real world mobile game for smartphones has witnessed more than 15,000 downloads and check-ins across 422 cities globally within just 2 week of its beta launch, claims the company. This number could touch 1 lakh downloads by Jan 2012. The game is available for Blackberry, Nokia, iPhone and Android devices.
It is a free to download real word game that lets you compete with your friends by checking into interesting places, earning Mojo $'s and trading properties. The game also helps you discover places of interest based on your likes and your friend recommendations and if you are travelling to different cities, you can also use Mojostreet to find useful locations like nearby restaurants, night clubs, ATMs, among others.
Additionally, based on the tips provided by friends and other members who have visited the place earlier, you can choose whether or not to visit that place.
"To match our growth curve we grew our team from 10 to 30 people in the last one month and we plan to be a 100 people company by end of 2012," said Kalyan Manyam, founder and CEO, Mojostreet Infomedia Services Pvt. Ltd. "As data plans become more affordable for the 750 million mobile users in India, location-based services are going to play a crucial role in community-based entertainment and commerce," he added.
Once registered, players can check into places they visit. With every check-in players earn Mojo dollars which they can then use to virtually own real world properties (for example you can virtually own the Churchgate railway station in Mumbai) and start collecting Mojo rent from other players. Check-ins will also increase the value of the property and the net worth of players. As of now, Mojostreet players can check-into more than 5.5 million geo-tagged locations and can win check-in rewards from 150 brands across 1250 locations.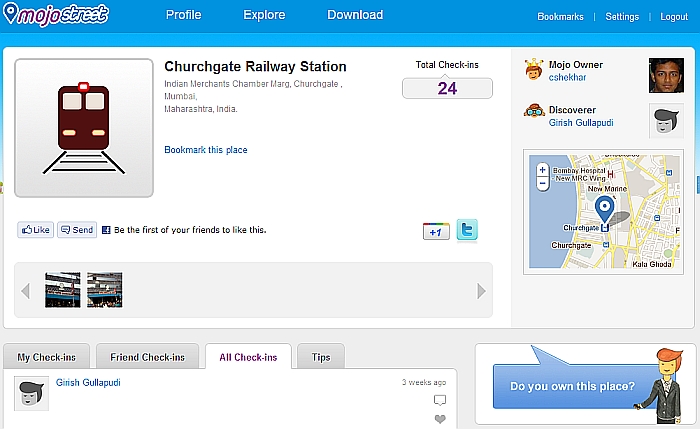 "The purpose is to create a real impact for not only players but also businesses hoping to be discovered by new customers. In collaboration with Mojostreet, businesses can run special rewards that are won by users who check in to their locations. For example, a food corner could create a 'special' that gives free desserts to customers who check in 1x times. These 'specials' in turn encourage frequency, first-time visits and higher spending by customers," says Manyam.
Players can also discover their cities through recommendation given by other players and they can get to know where their friends are playing the game from and where they can get Check-in rewards. An option of connecting the game with their Facebook and Twitter accounts has also been provided to the players.
Mojostreet had received a seed funding of $0.35million earlier this year. The company will start its global expansion in countries like Singapore, Indonesia, Malaysia and Hong Kong, early next year.
Comment(s)