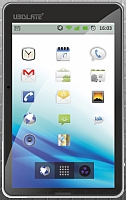 The world's cheapest Tablet is now available for online purchase, and anyone can purchase it this time around (not just students). The 'Aakash' Tablet, priced at only Rs 2,500, was launched by Kapil Sibal, Minister of Human Resources & Development, Communications & Information Technology in October, 2011 and was earlier exclusively for students. The company is providing customers with the cash on delivery (COD) facility and the delivery time for the Tablet is set to one week.
Aakash has a 7 inch resistive touch screen display (800×480 pixel resolution) and it runs on the Android 2.2 (Froyo) operating system. It is powered by a 366 MHz Connexant processor, has 256MB of RAM and comes with 2GB of internal storage which is expandable up to 32GB. The device has Wi-Fi, supports optional 3G modems and comes with 2 USB ports.
The Tablet also comes with a PDF viewer and has a separate application for YouTube videos. Additionally, DataWind is offering an optional keyboard case along with the Tablet for a laptop like experience. But the battery life of the Tablet is a meagre 3 hours which means it will require a charge more than once a day. The dimensions of the device are 118mm x 116mm x 12mm and its weight is 350 grams.
Also, people who feel that the Tablet is very weak as far as configuration is concerned can instead opt for the UbiSlate 7 Tablet (the upgraded version of Aakash) that will come with a better processor (Arm 8- 700 MHz) and a more powerful battery (3200mAh) that will provide 5 hours of battery life. This Tablet can also be used like a mobile phone for making calls, although users will have to pay a little extra for it (Rs 499 to be exact), since the price of UbiSlate 7 is Rs 2,999.
The only drawback in choosing this Tablet is that customers will have to wait till January, 2012 for getting their hands on this device. As of now the UbiSlate Tablet is also up for pre-order on the company's website.
---