Apparel E-com Site Freecultr Raises $4M From Sequoia Capital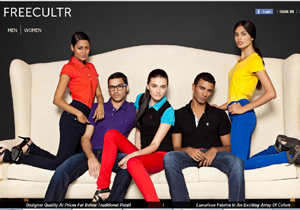 Freecultr, an apparel e-com venture co-founded by Sujal Shah, Sandeep Singh and Rajesh Narkar, with backing from the Smile Group (that runs a slew of its own e-com sites), has raised $4 million from Sequoia Capital India. The firm plans to use the funding to develop an in-house design team and a seamless e-commerce platform, in addition to maintaining product inventory and acquiring new talents.
Freecultr, launched only two weeks ago, sells its own brand of apparel and accessories online. The company plans to expand rapidly and will soon be available internationally, it said on Friday.
Shailendra Singh, managing director of Sequoia Capital, said, "We believe India has a dearth of differentiated consumer brands in fashion and apparel space, and the Internet is becoming a viable channel for the launch of new brands. Freecultr is a new apparel brand, first launched on the Internet. And we liked the Freecultr brand positioning and strategy of focusing on "premium basics from the get-go."
Sujal Shah, CEO & co-founder of Freecultr, said, "We are integrating e-commerce and fashion to give our consumers best value for money, choice and consistently updated product range. The investment by Sequoia Capital is a strong endorsement of our business and will help us build a world-class product range and brand."
Shah comes with 17 years of international experience in leadership, brand management and business execution. He has done his MBA from the Columbia Business School and earlier held similar roles (he was former VP & head of fashion at IMG India).
He is joined by Sandeep Singh (co-founder & COO) who headed brand and media solutions at digital marketing services agency Quasar and was part of its founding team.
These two are joined by chief product officer and co-founder Rajesh Narkar who has over 16 years of international experience in developing products for some of the world's leading brands.
Smile Group has been on a fund raising spree for its various Internet retail properties. Last month it announced that Fashionandyou.com raised $40 million in a second round of funding led by Norwest Venture Partners and Intel Capital. Sequoia Capital India and Nokia Growth also participated in the fundraising. This was one of the biggest investments in the Indian e-commerce space till date. The second round of funding for the luxury e-commerce portal comes in less than a year after it raised its first round. In December last year, the online fashion portal had raised $8 million from Sequoia Capital India.
Also, Norwest Venture Partners, Nokia Growth Partners and Intel Capital, along with Mayfield Fund, invested $17 million in Dealsandyou.com, the sister site of Fashionandyou.com around the same time.
Freecultr offers lifestyle products including casual tees, polos, tunics, sweaters, shorts, cardigans, denims, footwear and accessories for both men and women. The prices range varies between Rs 499 and Rs 2,000-plus.
Right now Freecultr's aim is to position itself as a global brand, concentrating on product quality and product range. Speaking to VCCircle, Sujal Shal, co-founder of Freecultr, said, "We have plans of going global soon. Although a date has not been fixed for that yet, the expansion will happen between six months and a year."
Interestingly, Freecultr is following the method of direct selling with no middleman involved in any of the processes – be it manufacturing, distribution or sales. The firm is leveraging Smile Group's strong supply chain operations to keep the distribution running.
"We are really lucky to be associated with them as they have the experience of handling similar e-commerce portals like Fashionandyou," commented Shah.
The payment structure is similar to that of existing e-com portals and customers may choose from different options like credit card, debit card, net banking and cash on deliver (COD). "Although Indian customers are more accustomed to COD, we are trying to ensure that our customers would use direct payment options as they happen to be a faster route. We are incentivising those by offering 2 per cent discount on the total amount of purchase if one goes for prepaid options," mentioned Shah.
Other e-com sites like Yepme and Zovi also sell their own brands of apparel and accessories in India. However, those two only specialise in men's products while Freecultr sells merchandise for both men and women. Moreover, at Yepme and Zovi, one will find unique products like coin-holders, card-holders and eyewear cases, which are not currently available at Freecultr. The other prominent e-commerce website selling merchandise and accessories is Bangalore based Myntra, while Inkfruit sells custom designed T-shirts.
"If similar portals are there, it is good for the market and the industry as it gives consumers more opportunities and options," commented Shah.
Comment(s)