Clk2c.com Unveils Mobile Wedding Invitation Service

Clk2c.com (a venture of Samadhan Systems Pvt Ltd.), an Indian mobile video messaging service provider has unveiled its personalized mobile wedding invitation service. With the service, users can send personalized wedding invitations from their mobile phones to the wedding guest's mobile phones. The company claims that this service will benefit both the senders, since it saves time and they can add a video message, and the receivers, since they will have all the information pertaining to the wedding right in their mobile handset.
The mobile wedding invitation application can be used on any GPRS enabled mobile phone. The company also offers personalized video mobile messaging and advertising e-solutions for the B2C and B2B marketplace. Its e-age message sharing service is targets corporates, brand advertisers and consumers for their official or personal communication needs.
"clk2c.com is a unique and contemporary service that creates entertaining, innovative and personalized wedding invitations delivered as video on guest's mobile," said Suresh Kabra, founder and CEO, clk2c.com.
Apart from founding clk2c.com, Kabra has also founded ifeelclub.com, a mobile video greeting service and has earlier worked as AVP, Products at Aricent Technologies; VP, Business Development at Conexant, Inc.; and VP, Business development at Conexant Systems. He holds a BE degree from BITS, Pilani and an MS degree from Concordia University. He also has an Executive MBA degree in International Management from NUS-Stanford, Singapore (2004).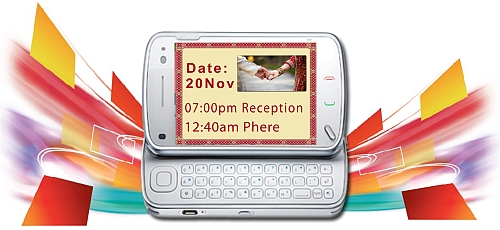 The new service is certainly both cost effective since it enables the user to send mobile video invitation to multiple recipients across the globe and it saves time because people don't have to go door to door to deliver the wedding invitation cards. Also, since the service reduces paper usage and fuel burn, it is also very eco-friendly.
Additionally, the technical and creative team at clk2c can customize the invitation as per the customers' requirements so customers can let their imagination run wild. Although it does take out all the fun from the wedding invitation process, since you don't get to personally deliver the invitations and see the reactions of people.
Comment(s)