Facebook's Timeline Feature Is Now Available For All Users
Social networking giant Facebook's Timeline feature, that was initially only available to selected users, has now been made available to everyone. The new feature is basically a revamp of the website and allows users to rediscover the things they have shared and collect their most important moments. It also lets them share new experiences (like the music they are listening or the miles they have run).
The Timeline feature was originally announced in September this year. Let's have a look at what it offers.
When a user upgrades to Timeline, their profile page gets replaced by the Timeline. All the information related to the user (like stories, photos, updates etc) is still there albeit it is displayed in a new tabular format. Facebook then provides the user with seven days to review everything that appears on their Timeline, before others can see it.
Although the Timeline goes live automatically after seven days, users can also choose to publish their timeline at any time during the review period.
Feature or hide stories: Users can individually select stories that they want to feature on the Timeline and they can also choose to remove or hide stories from it. To feature something on their Timeline, users can roll over the story and click the 'star' to expand it to two columns or they can click the 'pencil' to hide, delete or edit the post. Users can even select "only me" for posts they want to keep but don't want others to see.
See all your activity: The Timeline also gives the user access to a new tool called 'Activity Log' with which they can review all their posts and activities, right from the current day to the day when they first started using Facebook. Users can also use the Activity log to quickly find individual content like subscriptions, comments, posts by others, events and photos, among others.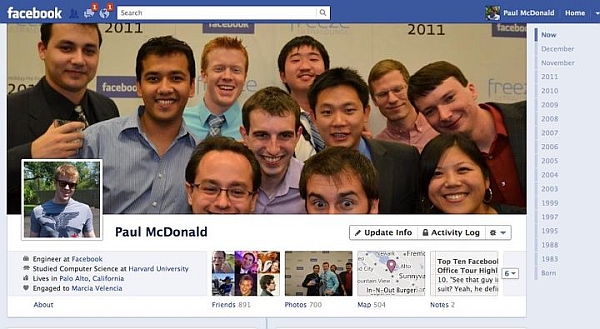 Users who want to get Timeline now can go to the
Introducing Timeline
page and click 'Get Timeline', or they can wait until they get an announcement at the top of their profile page. The Timeline has also been made available on
Android
and mobile version of Facebook
m.facebook.com
.
There is no doubt that the new Timeline feature puts the user in control and provides them with more options on how they personally view content and how it is displayed to others. We personally liked the Activity Log as we were able to find interesting stuff that we had shared earlier and forgotten about.
But the overload of information on the Timeline can take time getting used to and hence some people might not like it. Our suggestion, update today (before the Timeline is announced on everyone's profile page) and make full use of the 7-day period to get used to the Timeline, then show off in front of friends by helping them out with their Timeline.
Comment(s)