India's Diaspora Clicks With Art Online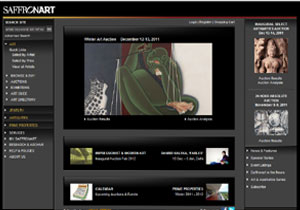 On Tuesday, art collectors across the world sat at their computers and with the click of a mouse collectively spent $2.7m on modern and contemporary Indian art without physically having seen many of the works.
The auction was hosted by Saffron Art, a Mumbai-based online auction house launched by husband and wife Dinesh and Minal Vazirani 10 years ago, when modern and contemporary Indian art was an unknown quantity. Neither had formal art training but both were avid collectors.
Since then the two entrepreneurs have ridden the wave of record economic growth in India and an expanding middle class to see their business become the largest online-only fine art auction site in the world by sales.
"In 2000, the entire transactional market [value of modern and contemporary art being bought] was $3m, it was minuscule. That has grown to $300m over the past decade," says Mr Vazirani.
Saffron Art's revenues rose from $200,000 in 2000 to peak at $50m in 2007. This year it expects to bring in between $30m and $40m.
Ten years ago the market for modern and contemporary Indian art was immature, lacking price transparency, authenticity guarantees and basic information such as how to contact artists. International collectors did not see India as a home of fine art.
But the couple set out to educate the wider market through exhibitions and seminars in Europe, the US and Asia, and gained the trust of a growing online community by aiming for transparency at every stage of the bidding process – including price details, track records, and artist profiles.
"Easy access gives people a lot more confidence to understand art," says Mr Vazirani. It has shown that top level art can be sold online: this year Saffron sold Arpita Singh's "Wish Dream" for $2.2m.
Saffron's clientele hail largely from Indians living overseas as well as the home market. "The Indian diaspora is very tech-savvy and is comfortable buying on the internet," says Mr Vazirani. "Internet penetration in India has also mushroomed."
High-profile Indian artists whose work has sold through Saffron include modernists MF Husain and FN Souza, and contemporary Indian artist Subodh Gupta, labelled the Damien Hirst of India.
Auctions typically last two days and are preceded by exhibitions in Saffron's galleries in New York, London, Delhi and Mumbai. Mr Vazirani adds, however, that "75 per cent of the million-dollar paintings we have sold have not been seen in person by the buyer".
The company generates 75 per cent of its revenues from auctions and the rest through fixed-price sales of works available to buy immediately on its website.
Eager to cash in on the boom, European auction houses Sotheby's and Christie's entered the Indian modern and contemporary market in 2003. Mr Vazirani estimates Saffron has a 25 per cent market share, while Christies has 25 per cent and Sotheby's 15 per cent.
Paul Hewitt, managing director of growth markets at Christie's, acknowledges the boom in modern and contemporary Indian art, noting "the increased activity of Indian collectors in other categories at sales around the world where we see more and more bidding in an increasingly diverse range of categories, including impressionist, postwar and contemporary art".
Mr Vazirani admits that since 2008 there has been a softening in the Indian contemporary market, which has yet to recover to earlier levels. "During 2007-2008 we saw a large influx of western collectors, like Charles Saatchi and François Pinault. But a lot of them disappeared with the financial crisis," he says. "However, there has been a shift [among collectors] to Asia. "
In 2008, Saffron expanded into online sales of fine jewels and watches and will next year be hosting an online auction of impressionist art.
That auction will see Vincent Van Gogh's "L'allée aux deux promeneurs" for sale online in February. Sophie Camu, founder of art adviser Camu Art, is advising on the online auction and has estimated it will fetch between $800,000 and $1m.
More News From Financial Times
Comment(s)