Snaptu Is Shutting Down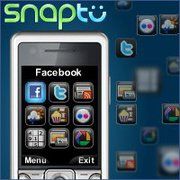 Its bye bye Snaptu. Snaptu, positioned as a view-all, free to download app for basic phones that do not come with heavy inbuilt features of smartphones, that was acquired by Facebook early this year had recently pruned its service offering (read about it here) is now completely pulling out the plug.
Snaptu turned a basic phone with Internet connection into a virtual smartphone. It allowed users to download various social media, news, infotainment apps and view it on a single app interface.
In India, Snaptu had two million users as of October 2010 but no recent user numbers are available.
It had earlier said it will completely focus on improving the Facebook experience on Java phones with the new Facebook app, which was first launched in January and updated in September. In the final adieu now it has reiterated its plan.
The message sent by Snaptu to its users reads: "We've put a lot of hard work and exercised great focus in order to build Snaptu. To do something really well one has to focus, and now that we're part of Facebook we are doing just that – we are focusing on Facebook for Every Phone.
Facebook for Every Phone is still in its early stages and there's much more to do. Our goal is to build an amazing app, one that doesn't require a fancy phone, but will still provide millions of people around the world with great new ways to connect and interact with their friends.
We hope that you enjoyed Snaptu and we thank you again for your support."
In a separate blog post it gave December 26 as the last day for the service. Though we see the app is still functional (it's December 27 in India and few hours left for rest of the world to go down December 26).
Snaptu was founded in 2007 as Moblica and is backed by Sequoia Capital and Carmel Ventures. The mobile app by the developer grew rapidly to reach 78 million users globally, as of January 2011. Now Snaptu has around 1 million daily active users and 4.6 million monthly active users, according to AppData, which tracks traffic of Facebook apps.
Comment(s)