Sony Slashes Tablet Price, Though Not Yet In India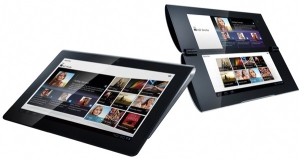 Sony has slashed the price of its newly launched Tablet S in the US by $100 and the Tablet is now available for $399 (approx Rs 21,200) instead of the original price of $499 (approx Rs 26,600). Although don't get your hopes up just yet because last we checked with Sony, the company has no plans to introduce the discounted price in India.
As of now, the 16GB, Wi-Fi version of the Tablet is available in India for Rs 29,990 while the second Tablet from the company, the dual screen Tablet P is scheduled to be launched in the country by mid-Jan.
Price cuts have, otherwise, suddenly become a common sales boosting tool for different brands.
Earlier, Canadian firm Research In Motion (RIM) that makes BlackBerry handsets had reduced the price of its Playbook Tablet by almost 50 per cent offering them at a discounted price of Rs 13,490, Rs 15,990, and Rs 24,490 for the 16GB, 32 GB and 64 GB respectively in India.
Although initially, scheduled to be a short term limited period pricing move, the initiative turned to achieve a good buzz and the company extended the offer from the 31st December, 2011 to the 7th of January this year.
After RIM, it was the turn of Motorola to reduce the price of its XOOM Tablet (no official confirmation from the company as of now) in the country. The Tablet, launched in June, 2011, was originally priced at Rs 29,999 and Rs 35,000 for the 32GB, Wi-Fi model and 32GB, Wi-Fi+3G model respectively is now available for Rs 21,500 (almost 30 percent less) for the 32GB Wi-Fi model (on Koovs) and Rs 25,000 (on Koovs) and Rs 26,850 (on Flipkart) for the 32GB, Wi-Fi+3G model.
This new trend of slashing prices could be the only alternative left for companies that are struggling to find a foothold in a market dominated by Apple's iPads (that dominates the market no matter at what prices competitors introduce their products) and Samsung's Galaxy Tabs (they dominate by offering a variety of Tablets in different price ranges). So who will be the next company to follow suit, will it be HTC, Acer or ASUS, any guesses?
Comment(s)