Mygola Bets On Customised Travel Planning With Crowdsourcing Twist
Bangalore-based online trip-planner
Mygola
is a travel website with a difference - providing each registered user with a personal travel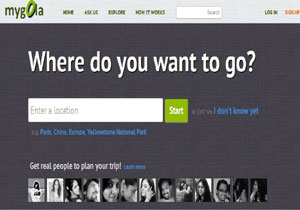 planner who does all the necessary research and makes bookings for trip/s. It also means one gets more relevant information, as well as the long-lost personal touch – which investors like Dave McLure, Blumberg Capital and certain unnamed angels - see as interesting value propositions. The had recently put in $1 million in the India and the US based 
travel start-up
.
Incepted in 2009, Mygola Technologies Pvt Ltd's model for information-sharing and charting out travel arrangements is quite simple. According to co-founders Anshuman Bapna and Prateek Sharma, both former batchmates at IIT Mumbai,  the name 'Mygola' has been derived from a Hindi word gola that means ice candy. "The idea is to help you customise a gola with any flavour of your choice. In other words, Mygola offers an experience that is similarly customised," says Bapna.
So how do you start using Mygola? Once you have registered with the site, the first question regarding your trip will be answered for free. But if somebody wants to pay a tip, he can do it (even if it's just Rs 5). The company has two fee based plans – $30 per trip or $99 per year (unlimited trips and unlimited questions). The first plan lets you ask unlimited questions for a single trip and helps you find all relevant information. The second plan takes care of all travel research (domestic and international) for one year. You can have unlimited number of trips in a year and for each trip, you can ask unlimited number of questions. Payment options are also simple. One can use all major credit cards or can pay through PayPal.
Currently a team of 17, Mygola was founded with the primary aim to help travel enthusiasts. "I was at Google, managing some of the largest travel publisher partnerships. At that time, there were two observations that prompted us to start Mygola. Travel had been around long enough on the Web to see an explosion of content and there had been some amazing services like Room 77, Airbnb, SeatGuru, etc.," explains Bapna, an MBA from Stanford Graduate School of Business.
That's precisely what made the duo wonder whether they could create a service that might combine the human touch and the power of the Web. "It was, indeed, difficult because we needed to get both the segments right. We had to get the right technology for aggregating all the data available on the World Wide Web to the scale up human operations so that we could deliver such hyper-personalised services," details Sharma, explaining what actually makes Mygola both reliable and viable.
The Biz Model
An 'insane' amount of personalisation is the USP of Mygola. And to keep up that promise, the founders are working hard to scale up human operations.
The company claims to have more than 50,000 registered travel enthusiasts till date (the site was launched in July 2010). A registered user is initially guided through a set of basic questions that would help him or her have a thorough understanding of his requirements during a trip. Next, a Mygola guide will carry out all relevant research regarding the trip and make bookings for the user. Hence, it is as good as talking to a travel agent personally and letting him customise the trip, based on one's specific requirements.
Mygola also follows an interesting crowd-sourcing model to recruit its guides. There are quite a few job portals that provide the necessary information to prospective candidates. In fact, those who love travelling are preferred for these positions and they are also required to take a test. People who qualify for the same attend online training sessions and are also groomed by mentors regarding the entire process before they start serving customers. A guide will charge anywhere between Rs 50 and Rs 200 for every question he/she answers. And the money will be transferred to his/her bank account once a query is answered. Currently, the company has 1,000 guides on board, with 80 people being added every week.
Mygola generates revenues in two ways. The first is through subscription as users tip or pay to ask questions (for each trip or on a yearly basis). The site also earns revenues (read commissions) by making bookings for users looking for additional services and convenience. The travel portal may soon explore advertising opportunities and that will be an added source of revenue.
Mygola Versus Other OTAs
There are no straight comparisons with other OTAs in India such as
MakeMyTrip
,
Yatra
or
Cleartrip
who largely offer set travel packages or bookings for standalone hotels and air travel.
Nor is it like TripAdvisor as it goes one step ahead in customised travel bookings instead of primarily being a peer review service.
The business model is certainly innovative, compared to other travel websites that essentially target not-so-loyal consumers (seeking cheapest pricing) and depend on booking volumes for thin profit margins. But then, the immediate target market is also somewhat different.
Incidentally, Mygola can be termed as a global service provider as users from outside India can also register, research about possible travel plans and get the bookings done even for a trip to Japan or Canada.
The company sees distribution as a key challenge. "What we are building at Mygola is complementary to almost everything out there. We would like to work with boutique hotels who may like to offer virtual concierge services and also with other OTAs that care about engagement," says Bapna.
"Another challenge is to scale up the human operations to a point where we can give millions of travellers their own personal travel planners," he adds.
Gaurav Saraf, founder of Mumbai-based Epiphany Ventures that invests in early-stage, innovative enterprises, feels that Mygola has an interesting take on trip planning as it is opening up the advisory network beyond family and friends when people are planning vacations. "Using the wisdom of crowds to enable users to ask about anything – from hotels and flights to activities and nightlife – and get personalised advice rather than generic reviews, is a strong value proposition," says Saraf.
According to him, the concept of getting paid for online trip-planning is also novel, but not yet proven. "It will be interesting to see whether the value proposition is commensurate with the fee the company charges. It may also need to guard against proxy authors who pose as regular users but are trying to promote their businesses," he warns.
Although the company did not share any financial numbers, nor did it say how many bookings it's doing at present, we did some fact-finding at our end and it seems that the firm is doing just fine financially. It clocked total revenues of Rs 72 lakh with net profit of Rs 7 lakh for the year ended March 2011, according to VCCedge, the financial research platform of VCCircle. That translates into a net profit margin of almost 10 per cent in a business where larger players are in losses or working on sub-5 per cent net margin.
The company management has clarified that the Indian firm is a subsidiary of the US parent company Mygola Inc.
The Way Ahead
By the end of 2012, Mygola targets to plan 1,000 trips across the globe on a daily basis and have on board a network of 10,000 guides. Also, the monies raised recently will be used to expand the engineering team, expand the guides' network and build an app for mobile offering. "We are looking for great engineers of all kinds to come and join us," says Bapna.
Mygola Inc., as the parent firm, expects to be profitable by Q1 2013. However, for that, its primary focus is to develop the backend (what the guides use) further, integrate several other travel services for its Web interface and extend the Mygola experience onto the mobile space.
Comment(s)