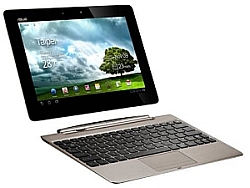 ASUS has launched its latest Tablet called the Eee Pad Transformer Prime in the Indian market after unveiling it in November last year (read here to know about the detailed specifications of the Tablet). But that is not what this article is about; rather it's about why the new Tablet deserves to flop according to us. And we can share a couple of reasons for it too.
Exuberant Price
The most important reason (or rather one of the main reasons that matters to the Indian buyer) is the way it has been priced. The Tablet's price in India is a whopping Rs 49,999 for the 64GB (Wi-Fi only) model, which is around Rs 3,000 more than the price of even the costliest iPad 2 model (64GB with Wi-Fi+3G). But this is not the only reason, why we see a bleak future for this product.
You are not Apple!
First of all, ASUS needs to realize that it is not Apple (they are not even a dominant player in the Tablet market) and even Apple will think twice before demanding such a price from the consumers. Just wait till March 7 for Apple to launch its next generation iPad 3 Tablets and you will understand what we are talking about. Yes, the high end model of iPad 3 could cost a bomb, but then there will also be affordable ones.
No choice available
ASUS can argue that the price is justified since it is for the 64GB model and that the Tablet is the first one to be powered by NVIDIA's next-generation quad-core Tegra 3 mobile processor. But then why did it decide to launch only one model in the Indian market in the first place, when they also have a cheaper 32 GB model. And this is not its best model either, the product doesn't even have 3G and instead is a Wi-Fi only model (unlike most of the Tablets already available in the market that come with both options).
Also, why is the keyboard dock bundled with the Tablet, when it is an optional accessory globally. This could have cut down the price by at least Rs 10,000 to Rs 15,000 since the keyboard dock in itself costs around $150. What if someone doesn't want a keyboard and is looking for a Tablet to get away from keys, they will have to shell out so much for an accessory they don't even need in the first place.
Finally, what happens to its 'first Quad-core Tablet' claim when competitors launch cheaper Quad-core Tablets in the not so distant future? This Tablet will lose all its oomph anyways.
When we had first written about the Tablet, we had nothing but praises for it, we even went out of our way and named it one of the best Tablets of 2011. But there is an old saying that too much praise can go to the head and we think this is a clear case of that. Having said that, we would expect ASUS to make quick moves in correcting some of these mistakes over the next few weeks, or so we hope.
---