Online recruitment solutions website MyParichay.com, which was recently in news for the deal with media and publishing group HT Media Ltd, claims to be the largest social hiring application. The Delhi-based media house has bought a small stake through an arm and may pick as much as 40 per cent in the startup based on milestones in the future.
Founded in 2011 by Ranjan Sinha and Vivek Sinha, MyParichay is a recruitment site with a social twist. People can look for jobs via their social connections. It also enables users to contact the recruiters directly and earn by referrals. It is an aggregator that searches for jobs from various job portals on a single platform. It claims to be catering to a different market altogether. MyParichay's customers are ones who are not active on Naukri or LinkedIn.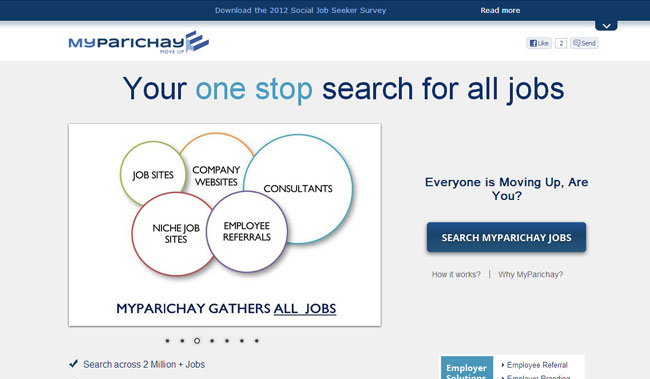 In a conversation with Techcircle.in, Ranjan Sinha, co-founder and CEO, MyParichay stated that the platform is adding over 65,000 contactable profiles daily. He also revealed that the firm has a distribution deal with HT Media's Firefly Ventures, which houses Shine.com and the minority stake in the first leg has been picked by an entity of the group and not by the parent firm HT Media. Edited excerpts:
What is the business model of MyParichay?
As per our business model, corporations pay for employee branding, socialising their employee referrals and referral lead access.
How is it different from other recruitment sites?
We are India's largest social, Facebook-based hiring application giving access to more than 26 million young professionals not active on Naukri and are not members of LinkedIn.
What is the traction that MyParichay has witnessed?
I can say we are adding over 65,000 contactable profiles per day making MyParichay India's fastest growing database of young professionals (21-35).
What are your expectations from this deal with HT Media as a group for MyParichay?
HT Media has a very large and capable sales and media footprint. We have a product distribution arrangement with them and they are giving us unprecedented reach in India.  We are pleased with the initial interaction with their product and sales organisation and believe this partnership will transform how hiring is done in India, just like how LinkedIn is changing the pure job board model.
How will this deal play out between Shine.com and MyParichay considering they are in the same sector? Is a merger on the cards?
There are absolutely no plans to merge. I believe Shine will continue its strong momentum in the job board space and MyParichay will fill the need to reach 26 million young professionals who cannot be reached through LinkedIn or Naukri. The deal allows clients to procure and get serviced from single point that is Shine for their traditional and social-based hiring needs. We will announce products that interoperate to deliver the best job seeker and employer experience.
What should we expect in near term future from MyParichay?
We will keep you posted but for now we are in dialog with media and job boards in other countries to deliver similar experience. We will soon announce exciting joint offerings for the job seekers.
(Edited by Prem Udayabhanu)
---