Yet another player in the online shopping space is pivoting from the original model. Started as a deals site, which is basically a flash sales model, eBagsfull is looking to transform into a pure-play ecommerce player. The startup, which is run by Puri E Ventures Pvt Ltd, is looking at major rebranding, change of business model and adding more features and channels of sales.
eBagsfull began operation in January 2012 and is completing one year of operations very soon. Mohit Taneja, co-founder and CMO, eBagsfull stated the company is looking to change its  model in the coming six months. "It will take some time but we are looking to transform. We need to hire more people for the transition, currently we are about 30 people strong and we need more merchandise also," Taneja said.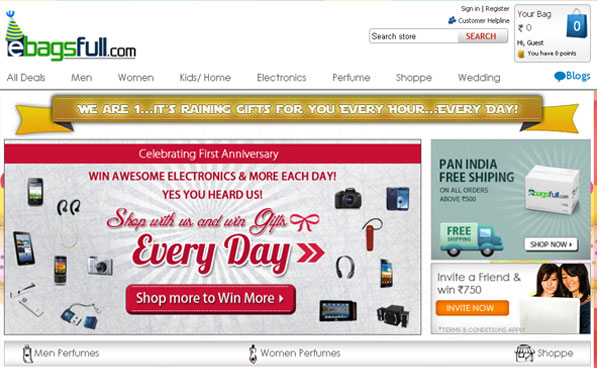 Currently, the site is doing close to 100 transactions daily with average basket size varying between Rs 500-1,000.  On the reason for this transformation, Taneja said a flash sales model does not ensure good margins, adding customer loyalty was also an issue.
"On a deals site you would hardly find customer loyalty, they would run where they get the most economical offer," Taneja stated. On being asked how the company would retain  customers in an e-commerce market, where there is even more competition and offers, he said customer services will be the differentiator.
eBagsfull was started  by Taneja and his friend Vikas Puri with a million dollars put in by family members and friends. Taneja has worked at Infoedge and TimesJobs and just before starting eBagsfull, he was general manager- client enablement at Wirefoot, a research and analysis firm for online companies.
Puri has a family business background. They are looking to raise $3-4 million external money to expand and pivot which they would like to spend on hiring and marketing. "We would be actively talking to investors in next 3-4 months," Taneja said.
Currently working on a zero inventory model, the promoters also want to change that when they reposition the company. "More variety is needed in pure-play e-commerce and for that we would need to have a certain amount of inventory. We are also planning to create our own private label," Taneja added.
Pivoting seems to a great trend in the online sector especially in the deals sites. Earlier in our story about trends in the e-commerce industry we had reported pivoting to be one of the greatest trends in 2012. Seems like it is going to continue this year too.
Is pure-play e-commerce better than flash sales? Share your views with us.
(Edited by Prem Udayabhanu)
---