Online exam preparation service Examify has gone live in public beta. Backed by angel investor Vishal Gondal, Examify was launched last year in December in closed beta. Gondal is also the mentor to the startup.
Examify allows students to check out questions for any particular exam on the basis of filters like most important, difficulty level, trending questions and what others are trying. A couple of other features include revision options and knowing the time taken to complete a particular test, which is critical in some competitive exams. Founded by Angad Nadkarni and Samudra Neelam Bhuyan, Examify uses algorithms and crowd sourcing to generate intelligence around various examinations. Students can browse questions from CBSE, IGCSE, IB and ICSE Board examinations, and IIT-JEE and BITSAT examinations. It has just gone live and is on an invitation-only basis for now.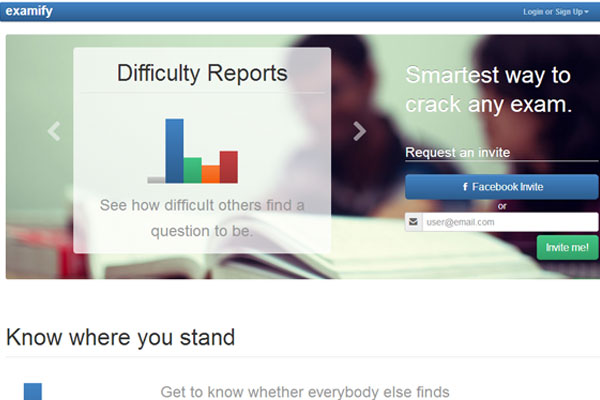 Bhuyan told Techcircle.in that Examify  is more like a Quora for question papers. "We have received thousands of sign ups already. We would be reviewing the invitations every fortnight and maybe in a couple of months do away with the invite," he said.
Currently it is purely a crowd-sourced model but more features will be added, he said. So basically, the questions and solutions are crowd-sourced. The company is also looking to tie up with professional teachers to have their content on the portal.
"We plan to have some premium features on the portal, which are currently under development, and will keep the data free to use. The premium features could be anything from professionals checking the questions to unlocking more exams or questions," Bhuyan said.
The company is backed by Gondal and a few other investors who sit on the board. The company may also induct some more members to its board, Bhuyan informed. The majority of capital raised will be utilised in quality data collection, which is key to the business model.  The company will look for funds only after 12-18 months.
The look and feel of the portal is pleasing. Though, it is planning to be a Quora for questions, credibility issues related to questions are likely to crop up.
Tell us your views on Examify.
(Edited by Prem Udayabhanu)
---