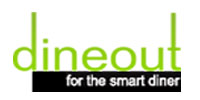 Online restaurant reservation startup Dineout Services Pvt Ltd, which runs the site Dineout, has almost completed a year and claims to be clocking more than 10,000 bookings a month. Started in February 2012 by Ankit Mehrotra, Sahil Jain and Nikhil Bakshi, Dineout raised angel funding worth Rs 60 lakh from the founders of Travel Boutique, a B2B online travel agency, in October last year.
The startup, which is now operational only in Delhi, has come up with mobile apps for all platforms and is expanding its base by entering Mumbai next. "We plan to hit Bangalore mid-year alongside we will develop our new vertical site for banquets which is already live," Jain said. The company will also expand to  Chennai, Chandigarh and Pune this year.
"We have about 260 odd restaurants in Delhi, which might go up to 350 plus in a few months. We want to be a destination for consumers to find premium restaurants and all information about them along with being able to book a table," he added.
Speaking to Techcircle earlier, Jain had stated that the company is targeting 15,000 bookings a month by March 2013. Jain is an IIM graduate, who was joined by Mehrotra, an investment banker by profession based out of London for the last 10 years, who also quit his job to come back and start Dineout. The third of the trio, Bakshi was working with DSP Blackrock for five years.
Dineout is majorly a restaurant booking site which combines restaurant listing, user reviews and deals and offers with its flagship offering of table booking, which makes it also a competitor to market leader Zomato in listings and deals sites. In its core functional area, Dineout competes with startups like Bangalore-based Poshvine and Mumbai's Tablewalla.
Jain said the core focus would always be venue booking. "We would always focus on venue booking whether it is table reservation or for a party. Restaurant listings and deals are value added features but not our focus area. Also, we are not competing with the Zomato since our curation standards for listing or adding a restaurant are very high.
The startup would be looking to raise Series A funding in the bracket of $2-5 million in the next six months and would also expand its team size, which is now 20. The funds will be utilised for expansion and product development.
(Edited by Prem Udayabhanu)
---