Noida-based mobile education and mobile lead generation company Applied Mobile Labs (earlier Voicetap Technologies) has launched 'English on Mobile' (EOM), a service that enables its users to learn how to speak in English via their mobile phones. The service does not require an active internet connection or a smartphone (even a basic handset will do), and users can learn/practice on their phones, whenever and wherever they want.
How does it work? To access the entire course content (that is divided into three levels– beginner, intermediate and advanced), users have to buy the service for Rs 799. Once the purchase is done (users can pay online or opt for cash on delivery), users are provided with a PIN. They have to give a missed call on 09223405555, post that they get a call back, asking for the PIN to activate the product. Once the service is activated, users can follow the instructions on the phone and start learning.
Note that the PIN is specific to the user's mobile number that he/she has entered while making the purchase and can be accessed only through that mobile number. The company claims that there are no other hidden charges (apart from the subscription fees) and whenever a user dials the number to access the course, the call is disconnected and another call is generated from the company's end to the user.
The course starts from the beginner level and progress towards an English expert level. Regular assessments are also conducted at the end of each lesson, and final assessment is done after each level. The users will be EOM certified as soon as they cross each level. According to the company, EOM will help users via: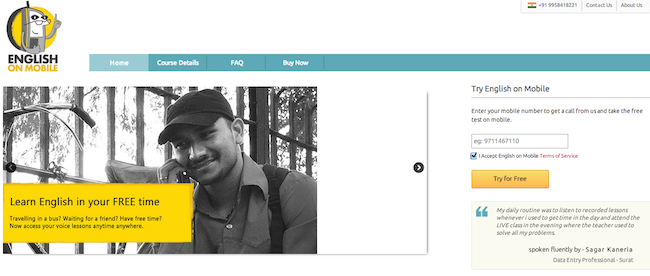 Recorded lessons: Access pre-recorded Lessons 24x7, even from your most basic mobile handset.
Pronunciation sessions: Practice on EOM's Interactive Voice Response (IVR) and compare your pronunciations with that of the experts.
SMS tips and reminders: Get daily reminders and tips based on your performance.
Live classes: Chat Live with English experts once a week and ask your doubts real time.
SMS an expert: Ask unlimited questions to the company's expert on SMS and get an answer to your queries within 24 hours.
Assessments: Take timely test and assess your skills at any time.
According to the company, the course has been made by eight English experts and offers over 15 hours of content. Once you purchase EOM, you get unlimited access to the course content, which means that you can rewind the course and listen to the content as many number of times as you want, and even practice it multiple times. Click here to read more about the course details.
"Because the entire course is accessed through your phone, you can access the content whenever you have free time. You can leave a lesson whenever you want and the next time you access English on Mobile, you will be automatically taken to the point where you left last time," reads a note on the site.
The company was established in 2009 by Mrigank Tripathi, an MBA from INSEAD and BE from Nagpur University in Industrial Production Engineering. Tripathi has previously worked with Text 100, Friday Corporation, Mercer Management Consulting and QED Venture Advisors. It's target audience for this offering is likely to be primarily from Tier 2 and Tier 3 cities that either do not have access to good teaching infrastructure or do not have time to attend regular classes.
---