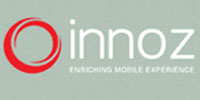 Innoz Technologies Pvt Ltd, a Bangalore-based startup which offers a mobile-based search service for basic mobile phones with no internet access, is expanding its operations into Bangladesh, Sri Lanka and Nepal by March this year, a top executive of the company told Techcircle.in.
Innoz provides an alternative search platform for feature phone users who can access information by texting their queries to 55444. The company has also launched Innoz OS, an operating system for mobile phones that provides access to the internet via SMS.
The startup will offer its services through Airtel in Sri Lanka and Bangladesh, but it will partner with all service providers in Nepal.
"We have already launched our services in Dubai and will launch in North Africa and South-east Asia this year as these are SMS-dominated regions," said Deepak Ravindran, co-founder and CEO of Innoz. "We will tie up with local partners in these markets and depending on the response from each country, we will set up our offices there."
The company had already raised an undisclosed Series A round from Seedfund (estimated to be between $2-5 million), being used for marketing, hiring and strengthening its technology base.
Founded in 2008 by Kannur University alumni Deepak Ravindran, Abhinav Sree, Ashwin Nath and Mohammed Hisamuddin, Innoz's mobile query product ensures instant response to any query, sent via SMS from a feature phone without internet connectivity. Each query costs Rs 1, but there are also daily and monthly packages for unlimited queries.
According to Ravindran, the company is also in talks with mobile handset manufacturers like Nokia and Micromax to pre-install Innoz OS in basic handsets. Powered by cloud technologies, the OS will 'communicate' with the internet via SMS to enable low-end phone users to check e-mail messages and connect to various social media. Innoz is targeting the Middle East, Africa, and tier II towns and villages in India where smartphone penetration is considerably low.
"Innoz OS will create an impact as it ensures instant access to information by the press of a button. The core of Innoz OS and the 55444 platform are here to bridge the internet connectivity gap. There are many 'dumb' phones available in the global market and almost 50 per cent of the total consumers don't have internet access. We bridge this gap," explained Ravindran.
According to him, opening up the 55444 platform to the world will provide infinite possibilities. "That is exactly what we have seen so far. A lot of innovative apps have been added ever since we introduced a system called less 3 (<3), where 55444-integrated hardware was used to help monitor the heart beats of patients and that information was then sent to doctors."
Innoz claims it currently handles one million queries every day and is looking to hit the 10 million mark a day by the end of 2015. It is also planning to get one million unique users per day, compared to the current 2.5 lakh. Innoz, which gets more than 60 per cent of its queries from tier II and tier III cities, has recently reached the one billion-mark in terms of total SMS queries.
Ravindran also claimed that the company generated Rs 6 crore in revenues in FY12 and is eyeing Rs 15 crore in FY13. Currently a 50-member team, the company is also planning to ramp up its employee base soon.
(Edited by Sanghamitra Mandal)
---