As the number of online shoppers grows by leaps and bounds, users scurry from one site to another, saving numerous products to wish lists, comparing prices and posting product links on their favourite social sites for some candid opinions. But all those hectic pre-shopping activities can be scrapped now as Scrapehere.com offers a social dashboard that enables online shoppers to make better purchasing decisions. The site, owned and operated by Bangalore-based Scrapehere Technologies Pvt Ltd, was started by Khaleel Pasha in October last year. Scrapehere.com went live two months later – in December 2012.
But how does it work in the first place? The site enables one to create a collection – essentially a list of products picked from different e-commerce sites. Then the collection can be shared on social platforms like Facebook, Twitter and Google+, and one can receive product feedback from friends and/or other users in the form of reviews, ratings, etc. Once you decide to buy a specific product (after weighing all the pros and cons revealed by your network), you will have to get back to the site selling the product/s and make the purchase. Note that you cannot make any purchases via Scrapehere.
To make a collection, the company offers a Scrape button that one has to place (drag and drop) on the bookmarks toolbar. Once that is done, you can simply go to any online store, select a product and click the Scrape button on the product page. The products are automatically added to your collection, post which you can add things like price, rating, etc.
"Comparing products from different sites can be tiresome at times. It's even more painful if you want your friends' opinions on all those items. Scrapehere allows you to create, share and get feedback on collections, which in turn helps you make pretty informed decisions," said Pasha, founder of Scrapehere.com.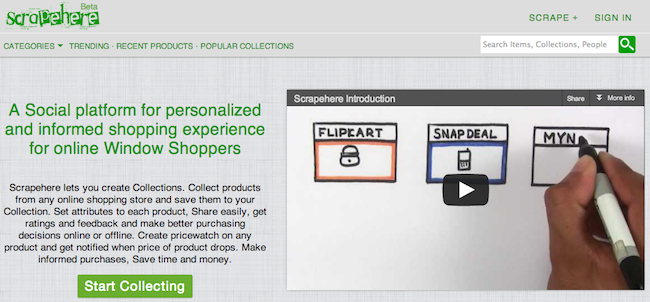 Prior to Scrapehere, he was working as a software development engineer at Amazon Development Center (India). Earlier, Pasha had a stint at Aricent (formerly Flextronics). He holds a master's degree in Computer Applications from the National Institute of Technology, Warangal.
The site also offers additional features like PriceWatch for selected websites that allows users to select a certain price and notifies them when the price of a product drops to their desired range. Users can either choose to keep their collections public (anyone can view and comment) or private and they can also add products to their collections from other collections on the site.
Scrapehere also offers a list of recent products, as well as trending and popular collections. Plus, it segregates the products according to categories (electronics, jewellery, home, etc.) for convenience and better visibility. You can follow others' collections and a notification centre notifies whenever a product is added to that collection.
"All the content on the site is user-curated as the idea is to make it for the user and by the user. We don't offer our own collections, just showcase the most popular/trending collections," said Pasha.
The company currently has a four-member team in place and is looking to join an accelerator before raising an angel round of funding. It claims to have 10,000 visitors in the first month and is hoping to double that number in January 2013.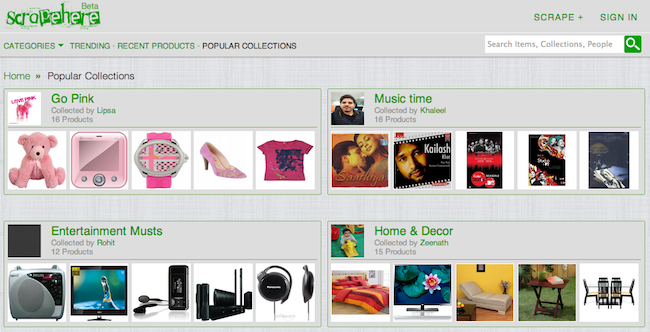 Revenue generation and competition
As of now, the company is not focusing on revenue generation. Instead, it is trying to build a decent user base, which will help gather a lot of personalised data in real time. According to Pasha, it may take another 8-10 months and the company will then build a recommendation engine for e-commerce sites in India, based on the massive amount of data collected. It will then offer the engine to different sites on a subscription basis.
We feel that the site can also charge commissions for redirecting purchases to the mother sites, as it will be essentially generating buyers for those sites. However, it has to overcome a few glitches in the first place. For instance, it's the user who enters pricing and other details regarding a product (in the collections) and we have seen a few cases where the information was not accurate.
As of now, sites offering the similar services include Kaboodle.com and Wanelo.com. Although these are not Indian companies, Indian users can still make use of them. However, do give the homegrown Scrapehere.com a try and share your comments with us.
(Edited by Sanghamitra Mandal)
---