Gurgaon-based digital media firm ValueFirst Digital Media Pvt Ltd has launched a new consumer internet property called Fullonbids.com– a free bidding platform. According to the company, users can register here to make unlimited bids for a variety of products/virtual goods like tablets, smartphones, laptops, digital cameras and even mobile recharges.
You can bid for free and if you win, the products will be shipped free of cost. The company has developed the property in-house and has also set aside $1 million for marketing and promoting the platform.
Commenting on the initiative, ValueFirst CEO Vishwadeep Bajaj said, "There is a huge gap in the market as far as bidding sites are concerned. The current sites are paid ones and we are the first company to provide a totally free bidding site to consumers." The target age group for this site is 18-45 years, according to the company.
"One of the primary reasons to launch Fullonbids.com is to grow our opted-in profiled consumer base, which will be monetised through targeted advertising on behalf of our brands and agencies," added Bajaj.
The site
One can register with a valid e-mail ID or an existing Facebook account. Once registered, you can view the products up for bidding. As of now, we could find only four products including a smartphone (Samsung Star 3 Duos S5222), a mobile recharge worth Rs 10, an mp3 player (Zebronics Sigma) and a tablet (Samsung Galaxy Tab 2).
To start bidding, one must select a product of his choice and then enter a unique (and presumably lowest) bid in order to win it. During the auction, you can bid as many times as you want and after the auction is closed, you can be the winner if your bid for the product happens to be unique and lowest. Note that if there isn't any single unique bid, the winner is determined by the lowest and the fastest bid. For free delivery of products, winners must provide their address details. However, mobile recharge or other virtual goods can be redeemed online.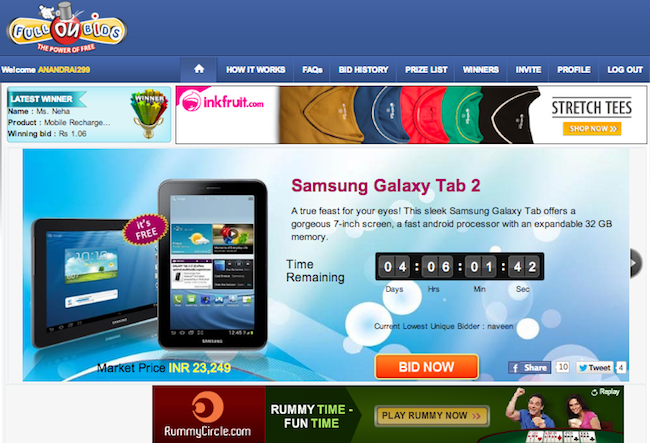 The user interface is nothing exceptional and we feel that it is too cluttered with advertisements. What's more, unless the company offers a wide range of products/virtual goods, users can lose interest very fast.
One interesting feature that can be added is group bidding where the company can put up a product for bidding if a certain number of people are willing to bid for it. For instance, if 100 people ask for an iPhone 5, the company can place it on the block.
ValueFirst was founded in 2003 and it is one of the fastest growing digital media companies in the country. Its digital (both internet and mobile) properties offer communication, social interaction and content to consumers. The company is backed by Headland Capital Partners (formerly known as HSBC Private Equity (Asia) Ltd) and New Enterprise Associates (NEA) that invested Rs 70 crore in the company in early 2011.
Last year, it went on an acquisition spree and bagged three companies including Bangalore-based mobile advertising firm mGinger (run by Gingersoft Media Pvt Ltd) in an all-cash deal, way2online (which owns and operates both way2sms and 160by2) and Indyarocks. Its other acquisitions included mobile VAS firm Cellnext Solutions in October 2009 (an all-cash deal) and Noida-based Packet Shaper, a telecom software and product development firm. The company had also acquired a majority stake in the social media firm Tagg.in in April 2010 for an undisclosed amount.
ValueFirst ran into troubled waters last year (in September) when Kumar Apoorv, CEO of the digital media firm ValueFirst Messaging Pvt Ltd, along with his team, were allegedly fired for alleged financial irregularities. At that time, Bajaj, the founder and CMD of the company, took charge of the day-to-day operations of the company.
(Edited by Sanghamitra Mandal)
---