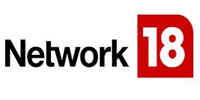 Network18 Media & Investment's digital content and e-commerce business saw revenues double to Rs 119.6 crore for the third quarter ended December 31, 2012, over the year-ago period, powered by over fourfold rise in revenues from HomeShop18. Revenues climbed more than 21 per cent over the second quarter.
The operating segment loss from the unit also shrank to Rs 31.3 crore, both sequentially over the previous quarter ended September and Q3 FY12.
The company's digital content and e-commerce business includes a string of news sites, digital commerce properties BookMyShow.com and HomeShop18 besides Newswire18. The firm divested its entire stake in Newswire18 during the last quarter and it is no more a part of Network18.
Digital content
The business housing content properties – Moneycontrol.com, In.com, Ibnlive.com and Fistpost.com – recorded revenues of Rs 22.4 crore, up 20 per cent year on year and around 10 per cent sequentially. Moneycontrol.com jumped to a high of 14.9 million unique visitors in December 2012, according to comScore World Report.
Digital commerce
The digital commerce unit saw revenues grow to Rs 84.4 crore from Rs 29 crore in Q3 FY12 and Rs 65.3 crore in Q2 FY13. This unit, which accounts for half of revenues of the company's digital business, now represents two-thirds of the income.
Bookmyshow.com, which is backed by Accel Partners, doubled its business year on year but the real growth came from HomeShop18 which saw revenues increase more than 325 per cent over the corresponding quarter last fiscal. SAIF Partners-backed HomeShop18, which derives one-third of its revenues from the e-commerce unit, says its margins are looking significantly better and the television business is now generating operational profits.
Newswire18
Newswire18 delivered revenues of Rs 12.8 crore for the quarter. However, during the quarter, the firm announced that it had divested its entire stake in the financial data and news terminal business to private equity firm Samara Capital for Rs 90 crore.
Parent
Network18 Media & Investment's consolidated revenue for the quarter stood at Rs 697.4 crore, a growth of 52 per cent over the same quarter last year. Its operating profit for the quarter was Rs 10.6 crore and profit after tax stood at Rs 6.8 crore. This was led by strong operating profit growth in the core TV and movie production business unit besides other segments cutting losses.
(Edited by Sanghamitra Mandal)
---