BookMyShow, the movie and event ticket booking site of the Network18 Group, has totally revamped its portal and added a slew of new features to enhance functionality and user engagement.
The trademark yellow-and-white colour combine of the site has given way to an overall white layout. Also 'Sports' is now a separate category on the site and there is an additional tab for 'offers' on the top panel, along with Movies, Events and Theatre, Sports and Applications tabs.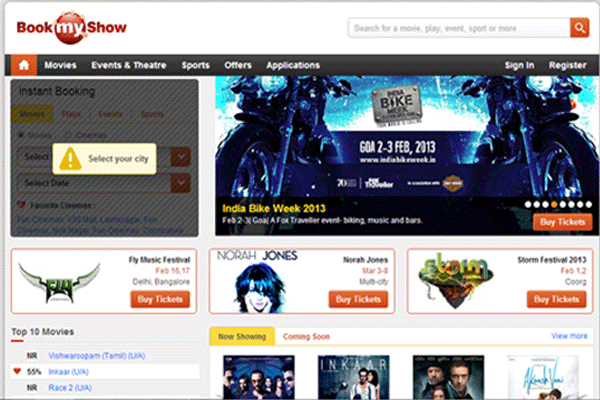 Another new feature is MyPayments, which enables users to save their credit/debit card details for future bookings. But here is a difference. BookMyShow does not store the CVV number of the card like other portals do, which means it is using a third party application for saving card details.
In addition, users can now see a list of top 10 movies, featured trailers and entertainment news on its blog.
In October 2012, BookMyShow quietly launched its B2C operations in the Australasia region. The company has also launched two B2C sites – one for New Zealand (some time ago) and a recent one for Australia through its majority-owned joint ventures. Earlier in August, it raised Rs 100 crore ($18 million) from VC firm Accel Partners.
In an earlier conversation with Techcircle.in, Ashish Hemrajani, founder and CEO of BookMyShow, said he was looking to launch an online wallet on the site. The wallet would act as a parking place for money which can be simply stored (and topped up) and used as per one's requirement. "The technology is ready and the service should come out by the end of this month (September 2012)," Hemrajani had said at that time. So MyPayments can be a precursor to a wallet service that may come soon.
Tell us what you think of the new-look and feature-rich BookMyShow.
(Edited by Sanghamitra Mandal)
---