Two months after acquiring Exclusively.in Inc, lifestyle e-tailer Myntra has pulled the plug on one of its two e-commerce properties, SherSingh.com, which sold private label apparel. The site, which has been down for more than a week, will now make a comeback as a catalogue site that will redirect users to Myntra.com, insists the company's management.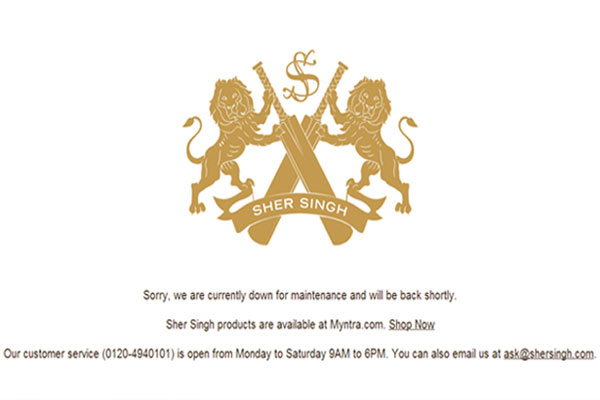 The acquired firm also runs a separate fashion site called Exclusively.in, which only targets the NRI market.
"Sorry, we are currently down for maintenance and will be back shortly. Sher Singh products are available at Myntra.com," says a message on the SherSingh site.
After the deal was struck in November 2012, merchandise from SherSingh has been available on Myntra.com.
When Techcircle.in caught up with Sunjay Guleria, co-founder and CEO of Exclusively.in, he said, "We will be sending a mail to our (customer) database informing them that SherSingh (site) is available for catalogue viewing and related content, but the actual shopping will happen via Myntra's site. The products and new collections are available for viewing at SherSingh.com, but the purchasing links will take the shoppers to Myntra."
The firm is also looking at more cross-selling. Exclusively.in, which is the second portal of the company, deals in ethnic wear for the NRI market and does not ship within India.
According to Guleria, the plan is to sell Myntra's ethnic wear on Exclusively.in as well. Whether Myntra will ship abroad separately, leveraging Exclusively.in's backend and logistics, is not yet clear. "All options are on the table; nothing is ruled out yet," said Guleria, who has joined Myntra as VP (marketing) post the acquisition.
Last year, Flipkart also pulled the plug on Letsbuy.com three months after acquiring it while Snapdeal downed the shutters on eSportsBuy two months after snapping it up.
Exclusively.in Inc was founded by Guleria in June 2010 with the parent site selling ethnic wear products in the US and the UK markets. One year later, the company launched SherSingh as sports-inspired lifestyle apparel brand for men and women.
The firm had raised $2.8 million from Accel Partners and Helion Venture Partners in November 2010. In a second round, Exclusive.in raised $16 million, led by New York-based Tiger Global Management LLC. Existing investors Accel and Helion also took part in that round.
In March 2012, Guleria had categorically denied rumours that the company was up for sale, but went on to sign the deal eight months later.
The acquisition came as yet another consolidation in the e-commerce space in India, involving common VC investors. Accel Partners and Tiger Global were shareholders in both Myntra and Exclusively.in.
It makes sense for Myntra to cut off SherSingh and divert traffic to the mother site. But the question is – what has it gained from the acquisition besides Exclusively.in and adding an apparel brand to the site? Myntra has already been building its own private label business, which garners better margins for retailers than selling products of established brands.
(Edited by Sanghamitra Mandal)
---