Social music streaming site Dhingana has launched its service on the mobile web. With this launch, users with any internet-connected mobile phone can simply go to Dhingana.com to access the service, without having to download the company's mobile apps. The mobile site is free and users can search for any song/album and listen to thousands of songs.
"We've always had a very strong focus on smartphones and on building native apps for iPhone, Android, BlackBerry and Nokia. We now launch Dhingana for the mobile web to allow users with any mobile phone to stream music instantly," said CEO and co-founder, Snehal Shinde. He further added that the service makes sense as in a country like India, 80 per cent of the mobile internet usage is from low-end feature phones via mobile web.
Saavn.com and Gaana.com (it had launched its mobile apps for all platforms including Android, iOS, BlackBerry and J2ME devices earlier this month), the company's key competitors, already offer J2ME apps. However, J2ME apps often have device compatibility issues while a mobile site works across all devices with internet connections. As far as monetisation goes, the company will continue to focus on ads as it always has. Additionally, it could also tie-up with telcos to offer a subscription service.
Dhingana also claims its mobile apps have crossed the 3.5 million downloads mark. Note that Dhingana apps are available for iOS, BlackBerry, Android, Windows and Nokia devices; plus you get it as an HTML5 web app.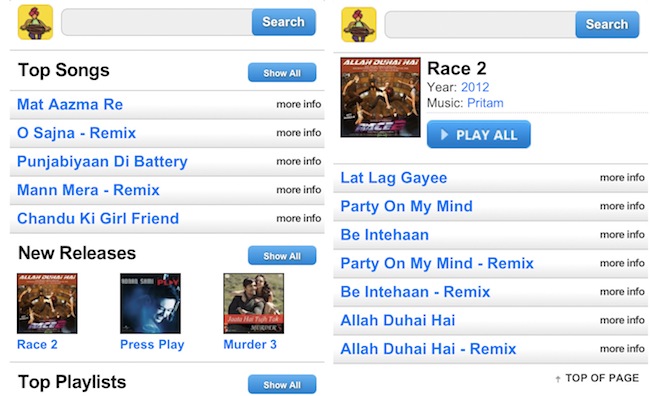 Dhingana was set up in February 2007 by twin brothers, Snehal and Swapnil Shinde. It currently features a collection of over 5 lakh free songs in 38-plus Indian languages and claims to be the largest on-demand Bollywood and Indian music streaming service across the globe with users in more than 220 countries. Headquartered in California, Dhingana also has an office in Pune.
The company raised an undisclosed amount from Inventus Capital Partners and Helion Venture Partners in 2011. In October last year, it further raised $7 million in Series B, led by Lightspeed Venture Partners. Existing investors Inventus Capital Partners and Helion Venture Partners also participated in that round and as part of the deal, Dev Khare from Lightspeed joined the board of the company.
The company had earlier (October 2012) roped in Ashish Joshi, head of digital and business development (India & SAARC) at Universal Music India, as the vice-president (business development) for Dhingana. It had also obtained its first licensing deal with an American artist and label, Pretty Lights Music, in the same month.
In August last year, the company launched an advertising platform to help brands reach the lovers of Indian music from all over the globe. As part of this initiative, it also named Gokul Rajaram, Facebook's product director of advertising (at that time) and the creator of Google's AdSense, for its advisory board.
(Edited by Sanghamitra Mandal)
---