iTraveller.com customises your vacation planning, but can it be a trail blazer?

While everyone loves a nice vacation, getting the entire trip in order actually takes a lot more effort than meets the eye. You have to sit with travel agents and decide on every aspect of the trip, which can become tiresome. An alternative is to simply select from one of the available vacation packages being offered by online travel agents (like Makemytrip.com or a Yatra.com), but customising them requires sending email queries, live chats or calling up the company.
To ease the process, and to offer the benefits of both- convenience of selecting a vacation package online as well as providing detailed customisation options like the offline world, the trio of Shiju Radhakrishnan (CEO), Chitra Parija (head- operations) and Prashant George Varghese (head- online marketing) founded iTraveler Tours Pvt Ltd, the company that owns and operates iTraveller.com, a site that provides personalised vacation planning services.
The Kochi-based startup, founded in September 2011, currently offers around 40 packages for three locations in India- Kashmir, Kerala and Himachal. In each of these destinations, the company has tied up with a number of native agents cum franchises that work on behalf of iTraveller to further facilitate hotel bookings, travel arrangements, etc. for the customers.
Prior to iTraveller.com, Radhakrishnan has worked with companies like Ashok Leyland, Cognizant Technology Solutions and Wipro Technologies. He is a management graduate from SP Jain Institute of Management & Research, Mumbai, and has a bachelor's degree in Mechanical Engineering from Mahatma Gandhi University. Chitra has worked with ICICI Bank, BharatMatrimony.com. Varghese, who had stints with Deltastar General Trading LLC and Cognizant Technology Solutions, holds an MBA degree in Finance from T.A.Pai Management Institute, Manipal.
The site
Users can either select from the available packages or build their own from scratch (only for the locations offered). While building their own, users are also prompted with suggested packages that are curated by the site according to the user's preferences.
"The idea is to put the decision-making power in the customer's hands (or clicks in this case). Every package is infinitely customisable to satisfy each customer," said Radhakrishnan.
We selected an eight nights package for Kashmir priced at Rs 40,440, and post selecting a tentative date of travel, were able to customise the hotel, the room type, meal plan for each and every day of stay. In addition, we could also customise the mode of transportation and inclusions like pickup and drop, buffet lunch/dinner, etc. All in all, the customisation was efficient and we could drop the price of the package down to Rs 26,579 by choosing the cheapest available options. Note if you select a later date, the cost of the package also decreases accordingly (probably something to do with the flight prices).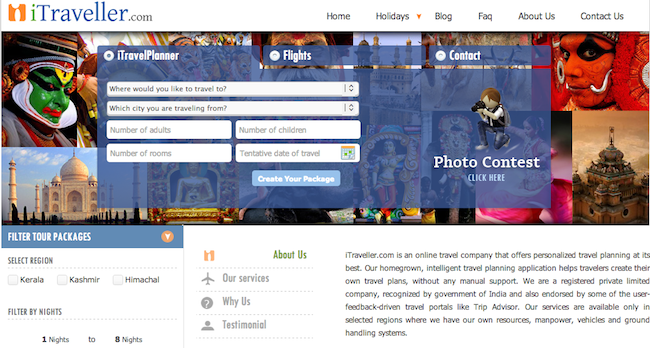 How is it faring
The site is getting around 50,000 visitors on a monthly basis, out of which around 40 per cent are unique visitors (it also has a high repeat rate of customers). The company will invest in search engine optimisation (SEO) to further increase this number. In terms of sales, Radhakrishnan claims that the site had clocked Rs 1.5 crore in sales in the last financial year. This time around, it has already crossed Rs 3 crore in sales and is aiming to touch Rs 4 crore by the end of this financial year.
The site competes with all OTAs that offer vacation packages like Makemytrip.com, Yatra.com, among others.
Funding and expansion
As of now, the company is looking to raise $3 million in its Series A round of funding, which it will invest in adding new destinations, product development and increasing the team size. The company is looking to add 19 more destinations (minimum Rs 3 lakh is required to setup one destination) including four locations outside the country like Sri Lanka, Thailand, Malaysia, etc. in the next six months and the team size will increase from 22 currently (including the founders) to 60 by early next year.
In terms of challenges, the biggest one for the company is that larger players can replicate the technology behind its product. "We offer only three destinations as of now because it takes a lot of time to build the required technology and partnering with the agents in the different locations. Even if they copy the technology, it will take them (competitors) a lot of time to build those. Then there is also the goodwill of satisfied customers," said Radhakrishnan.
Comment(s)