Research In Motion (RIM) has finally unveiled its next-generation flagship smartphones running on the latest BlackBerry 10 operating system. But first things first. The Canadian telecommunication and wireless equipment company has decided to rebrand RIM (a name it had used for nearly 30 years) and it will be known simply as BlackBerry from now on. The announcement was made by Thorsten Heins, president and CEO of the company, during the launch event organised by the company.
At that event, the company has also introduced BlackBerry Z10 and Q10, the first-ever BlackBerry 10 OS devices. Here is a look at the specifications and features of the smartphones, which the company hopes (and we mean in the most desperate manner possible), can turn its fortune around and bring back the glory days.
This device sports a 4.2 inch capacitive touchscreen display (768x1280 pixels resolution) with 355 ppi (pixels per inch) pixel density. Interestingly, Apple's iPhone 5 has only 326 ppi pixel density while Samsung's Galaxy S III has 306 ppi and Galaxy Note II has 267 ppi. Z10 is powered by a 1.5 GHz dual-core (we were hoping for a Quad-core, though) Qualcomm Snapdragon processor and has 2 GB of RAM. The internal memory of the device is 16 GB that can be expanded up to 32 GB with a microSD card.
It has an 8 MP auto-focus rear camera with LED flash that can record full HD videos (1080p) at 30 frames per second and a 2 MP front-facing camera that can also record HD videos (720p) at 30 fps. On the connectivity front, the device has Bluetooth 4.0, Wi-Fi, 3G & 4G LTE, a microSD slot and a microUSB port. The smartphone measures 130mm x 65.6mm x 9 mm and weighs 135 gm. BlackBerry has provided an 1,800 mAh battery in the device (the company claims it will last a full day) and comes with Near Field Communication (NFC). It has GPS with A-GPS support and will be available in white and black colours.
BlackBerry Z10 will compete with the likes of Samsung's Galaxy S III (Rs 32,220) and Note II (Rs 37,400), Apple's iPhone 5 (starts at Rs 45,500), Nokia Lumia 920 (Rs 37,199) and the recently launched HTC Butterfly (Rs 45,990) in the Indian market.
This one sports a QWERTY keyboard, hence the screen size is only 3.1 inch (although it is still the largest ever on a BlackBerry QWERTY device). The capacitive touchscreen display (720x720 pixels resolution) has 328 ppi pixel density and a 1.5 GHz dual-core processor powers the device. It has 2 GB of RAM and the internal memory can be expanded up to 32 GB with a microSD card.
Camera details are not available as of now, but at the very least, we expect a 5 MP auto-focus camera with LED flash that can also record full HD videos and a front-facing camera that can also record HD videos (note that this is just a guess). On the connectivity front, the device has Bluetooth 4.0, Wi-Fi, 3G, NFC, a microSD slot and a microUSB port. While Q10's exact dimensions are not available, it weighs 140 gm and there is an 1,800 mAh battery in the device.
Additional features
BlackBerry Flow: Allows users to access and manage everything – messages, social updates and app notifications – with a single swipe. Also, unlike other smartphones where users have to go in and out of apps, BlackBerry 10 offers a totally integrated experience across apps.
BlackBerry Hub: Enables users to keep everything (that matters) in one place. This means users can peek into the BlackBerry Hub (from any app) with just a swipe, and navigate effortlessly in and out of messages and conversations.
BlackBerry Keyboard: The new touchscreen BlackBerry Keyboard learns your writing style and suggests words to help you type faster, more accurately and with the least effort. And if you tend to mistype certain letters regularly, the keyboard will remember and adjust accordingly to make sure you hit the right key (really a nice feature that guarantees minimum typos).
BBM Video with Screen Share: Enables users to switch their BBM chat to a BBM video conversation. Users can also use the new Screen Share feature to display photos and browser or can review a business document together. They can even share the view from their respective smartphone cameras.
Camera with Time Shift mode: The Time Shift mode captures milliseconds before and after you click the photograph – so that you can scroll back on the 'dial' to open your friend's eyes (assuming they were closed when the picture was taken) and then go forward to catch another friend smiling (if he/she was not at the time of the click), before combining them all to create the perfect picture.
The company had earlier announced the availability of its new Enterprise Mobility Management (EMM) solution, the BlackBerry Enterprise Service 10, for download that offers mobile device management, mobile application management and secure mobile connectivity.
Pricing and availability
So when can you get your hands on the brand new devices sporting the new OS? BlackBerry Z10 will be available in the UK (with contracts) from Jan 31. Following that, it will be launched in Canada on Feb 5 for around $149.99 (around Rs 8,000) on a 3-year contract; in the UAE on Feb 10 for an unsubsidised price of AED 2,599 (Rs 37,651); and in the US in March. BlackBerry Q10 will be launched globally in April this year. However, pricing details and availability in the Indian market for both the devices are not available now.
BlackBerry World
The company recently renamed its apps marketplace – from BlackBerry App World to BlackBerry World. It also stated that the app store would be launched with 70,000 or more apps while the unified multimedia storefront would carry an extensive catalogue of songs, as well as movies and TV shows (with most movies coming to the store on the same day when they are released on DVD and next-day availability of many current TV series).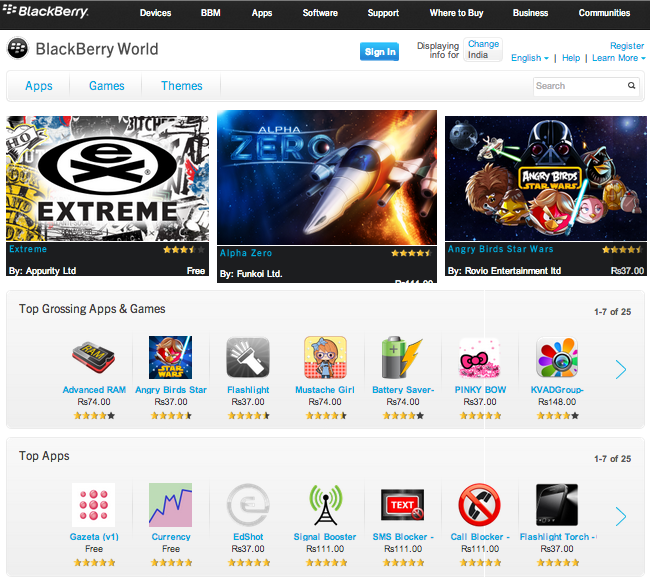 The video download and rental section in BlackBerry World will be initially available in the US, the UK and Canada, and depending on region and distributor, customers will have access to movies from studios and independent film-makers including 20th Century Fox, Lionsgate, MGM, Paramount Pictures, Sony Pictures and Home Entertainment (US), among others. The storefront's Digital Rights Management (DRM)-free music download section will also feature a catalogue from major and independent labels such as Matador Records, Rough Trade Records, Sony Music Entertainment, Universal Music Group, Warner Music Group and XL Recordings. It will be initially available in 18 countries including India.
This is a low-down on the details currently available regarding the Z10 and the Q10 smartphones. While we feel that these are really good handsets, we are still not sure whether these can be the game-changers for the company. A lot depends on how the company decides to price these in key markets and that can actually become the defining factor for success. What is your take on the matter? Do you think BlackBerry is worth one more shot (considering the new handsets and OS)? Also, what should be the appropriate prices for these smartphones? Share your comments below.
(Edited by Sanghamitra Mandal)
---