Next acquisition will be a mobile tech company, says Dhruv Shringi of Yatra.com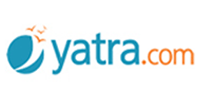 Gurgaon-based OTA player Yatra.com has been quite active in terms of acquisition, lapping up three companies in the span of one year. Now Dhruv Shringi, Yatra's co-founder and CEO, says the company will be looking at a mobile technology firm when it opts for a fourth acquisition.
Speaking at VCCircle's recently held Emerging Enterprises Investment Summit 2013, Shringi said although their hands were full, Yatra could be looking at a mobile technology firm for the next acquisition.
"Going forward, if we were to look at an acquisition, we would look at mobile technology. A company which has the mobile elements and enables consumer services via a mobile device should be ideal. Mobile is a large opportunity just waiting to be tapped," he said.

In January 2012, Gurgaon-based Yatra Online Pvt Ltd acquired event ticketing company Buzzintown and later in June, the OTA also acquired the online hotel distribution network TravelGuru from Travelocity. In August last year, it also acquired Bangalore-based Magic Rooms Solutions India Pvt Ltd, a hotels aggregation site backed by Nexus Venture Partners. MagicRooms was founded by Niranjan Gupta, co-founder of the online travel agency Via (formerly FlightRaja).
Talking about Buzzintown, Shringi said, "That has been an interesting acquisition. By integrating Buzzintown's offers in flight ticketing, we have been able to create a huge difference in the commodity. It is helping us provide that value-add to customers who are here to book flight tickets."
Commenting on the startup ecosystem, Shringi noted that in the current scenario, the market opportunity is already there for new companies. But when Yatra started its operations as a startup back in 2006, its promoters had to invest a lot in creating that opportunity. "At the same time, the competitive environment is also very different now. So given a choice, I would rather be on that side only," he added.

Buzz about Yatra's impending IPO has been doing the rounds lately. In July 2012, the OTA raised $14.5 million in a Series D round of funding from a group of five unnamed investors. And in 2011, it also raised $45 million (Rs 200 crore at that time) in what was said to be a pre-IPO round of funding.
However, Shringi feels it is very difficult to specify an IPO date right now. "Currently, it is a very volatile environment. We keep talking to bankers and at board meetings, but putting a date to the IPO is difficult," he said. But looking at the current scenario, it would most probably be a US listing for Yatra, said Shringi.
(Edited by Sanghamitra Mandal)

---