Flipkart CFO Karandeep Singh quits after just over a year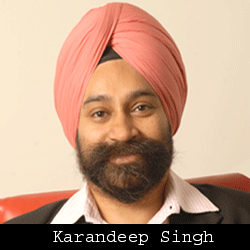 Karandeep Singh, chief financial officer of India's largest e-commerce firm Flipkart Online Services Pvt Ltd, has left the company owing to personal commitments, even as the enforcement directorate (ED) is probing the firm for possible violation of FDI norms in multi-brand retailing. Singh has been with Flipkart for just over a year.
Commenting on the development, Flipkart CEO Sachin Bansal told Techcircle.in, "Karandeep has been a great business leader and a respected team member. He has contributed immensely to the company's growth in this past year, not only professionally but also as a well-loved mentor and colleague. He will be sorely missed at Flipkart. Although we are sorry to see him go, we understand that personal commitments sometimes take precedence and we wish him only the very best in his future endeavours."
Flipkart has already started looking for Singh's replacement, according to a company spokesperson. "We are looking for a replacement, but nothing has been finalised yet. As of now, we can't say whether it will be an internal elevation or we will hire somebody from outside," the spokesperson said.

The spokesperson also told Techcircle.in that there was no connection between Singh's resignation and the ED investigation. "There is absolutely no linkage between Singh's stepping down as CFO and the ED probe," it was confirmed.
Karandeep Singh did his B.Com from Delhi University and is a member of the Institute of Chartered Accountants of India (ICAI). In his career span of two decades, he also worked with Dell, Moser Baer, Ariba and Yum Brands, and supervised a number of business support functions. Prior to joining Flipkart, he was with Sapient Corporation as vice-president (finance) and managing director where he led the India operations and was also part of the company's global leadership team.
"Working with Flipkart has been a great opportunity and I am glad to have been able to contribute to the Flipkart growth story," said Singh. "It has been a great learning experience working with a young, dynamic team. While I would have loved to continue my work here, I have decided to move on for personal reasons," he added.

In November 2012, S Jagathrakshakan, minister of state for commerce & industry, informed the Lok Sabha that the government was probing Flipkart for possible violation of FDI norms. Currently, FDI is barred in the Indian e-commerce space and firms have formed multiple corporate entities to conform to the government norms.
Bangalore-based Flipkart recently raised an undisclosed amount in Series D round of funding, led by South Africa's Naspers Group besides Iconiq Capital and existing investors Tiger Global and Accel Partners.
(Edited by Sanghamitra Mandal)

---