Within months of selling hotels booking property Travelguru.com to Yatra, international online travel agency Travelocity has shut off its India site travelocity.co.in. This marks a consolidation in the fast growing but crowded OTA business in India which is dominated by home-grown majors like NASDAQ-listed MakeMyTrip, Yatra, Cleartrip and Via. There are a number of other players including Goibibo.com.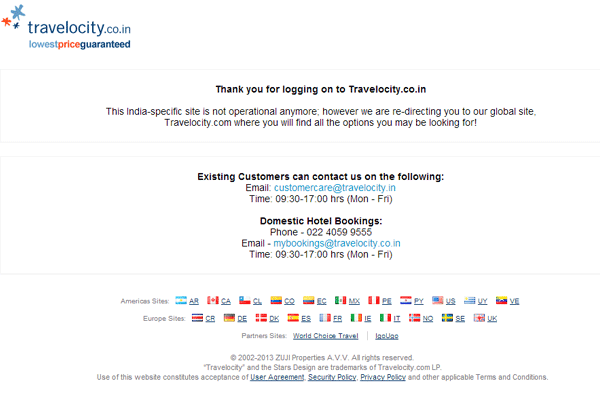 The news of Travelocity India site shutting down was first reported by Medianama.
A message on the Travelocity India site reads: "This India-specific site is not operational anymore; however we are re-directing you to our global site, Travelocity.com where you will find all the options you may be looking for!"
However, the site does not automatically redirect to the global site. The parent site does allow bookings for India but shows prices in US dollars. Moreover, a random search for a one way air ticket between Delhi and Mumbai threw results only for Air India with few multi-city flight options including Jet Airways.
This means it does not have the low cost airlines yet on board which makes it a non serious player in domestic air tickets market. Its hotel search however included even budget hotels.
Last June, Gurgaon-based OTA Yatra Online Pvt Ltd acquired online hotel distribution network Travelguru from Travelocity in an all-cash deal.
Travelocity Global acquired Travelguru in a deal pegged around $10-12 million in 2009. Earlier, venture capital firms Sequoia Capital India and Battery Ventures committed $25 million in two rounds of funding to Travelguru. Travelguru initially focused on air ticketing, but soon pivoted to focus on hotels aggregation. In December 2007, it acquired a B2B hotels aggregator Desiya.com in a stock deal rumoured to be valued at $25 million.
Before the Travelocity deal four years ago, Travelguru was in talks with another global OTA, Expedia, for a deal which didn't materialise.
Privately held Travelocity, which launched its own India edition few years ago, retained Travelguru as a separate site, though it brought in some common branding element in the logo which has now been taken off post Yatra acquisition.
There were rumours of its strategic rethink on India business as Techcircle reported last June.
Back then Yatra's Dhruv Shringi had said: "I feel Travelocity has its global priority. Anyway, India was very small part of its business. Right now they are shifting their focus from India to concentrate more on North America, Asia and European market."
(Edited by Prem Udayabhanu)
---