Hungama Digital ties up with Gameshastra to develop localised games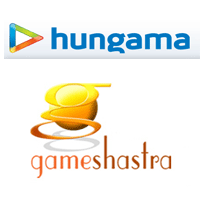 Mumbai-based Hungama Digital Media Entertainment Pvt Ltd has tied up with Hyderabad-based games outsourcing services provider Gameshastra to launch an integrated gaming company. The alliance will develop and deliver localised games across multiple platforms.
Hungama Digital already has its own gaming arm called Hungama Game Studio and through this JV with Gameshastra, the company will bring its exclusive IP across various genres – Bollywood, celebrities, sports and lifestyle – in console gaming and games for the iOS and Android platforms. On the other hand, Gameshastra tests, develops and publishes games for dedicated gaming consoles including the Sony PlayStation 3, PlayStation Portable, Nintendo DS, Wii, as well as other platforms including iOS, Android, Mac OS X and Windows PCs.
"Through our partnership with Gameshastra, we will create a bouquet of games that are engaging and addictive for the average gaming enthusiasts. We hope to provide them with the ultimate gaming experience in the comfort of whichever connected environment they choose," said Neeraj Roy, MD & CEO of Hungama.

This is Hungama's second partnership in less than four months. In October 2012, it entered into a partnership with global mobile media buying platform Adsmobi Inc. for mobile advertising to monetise its all-India inventory.
Recently, Hungama has launched a game for the Bollywood movie Race 2 in partnership with Gameshastra. So it seems the partnership will result into more such games in the future. Hungama Digital is an aggregator, developer, publisher and distributor of Bollywood and South Asian entertainment content, and caters to a global audience. It claims to have partnerships with more than 400 content creators, record labels, studios, broadcasters and game publishers, and has licensed worldwide the exclusive digital rights to over half a million music and video titles.
(Edited by Sanghamitra Mandal)

---