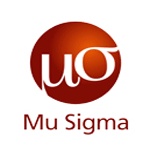 MasterCard Advisors, a division of the NYSE-listed MasterCard, and Big Data analytics firm Mu Sigma have announced today a strategic partnership that combines MasterCard Advisors' purchase behaviour insights with Mu Sigma's analytics. They will jointly develop analytics products to help companies deal with business challenges like acquiring customers and increasing customer loyalty.
As part of the partnership, MasterCard has acquired an equity stake in Mu Sigma, but details of the deal cannot be immediately ascertained.
"The data analytics market is rapidly growing as customers seek real-time insight, allowing them to better connect with their consumers through highly relevant products, offers and services," said Gary Kearns, executive vice-president (information services) at MasterCard Advisors. "By combining MasterCard Advisors' purchase behaviour insights with Mu Sigma's expertise, we will be able to drive faster innovations in data analytics solutions and deliver them on a broader scale, globally," he added.
"Big Data analytics is growing at a tremendous pace," affirmed Mu Sigma CEO Dhiraj Rajaram. "We have deep experience in this area and MasterCard Advisors has been leading in data analytics (among payments companies) for a number of years. When MasterCard's data & information insights will be exposed to Mu Sigma's Big Data analytics ecosystem, it will add great value to various businesses," he said.
In December 2011, Mu Sigma raised funding to the tune of $108 million, led by private equity firm General Atlantic. Earlier, in April 2011, the company also raised $25 million, led by Sequoia Capital. In the same year, Mu Sigma also topped the Service Provider Evaluation ranking among the pure play analytics companies.
(Edited by Sanghamitra Mandal)
---