Smartphones and tablets will consume three times more data on service provider networks than
the entire desktop internet by 2017, according to a white paper titled Cisco Visual Networking
Index: Global Mobile Data Traffic Forecast Update, 2012-2017, published by Cisco.
It also adds that cloud apps will become even more significant; smartphones will comprise half
of all mobile connections; mobile videos will see high growth and 4G connections will comprise
just 10 per cent of the connections but nearly half of the total traffic.
Here are a few key highlights from the
report
.
Monthly global mobile data traffic is forecast to reach 11.2 exabytes by 2017, compared to
0.9 EB in 2012.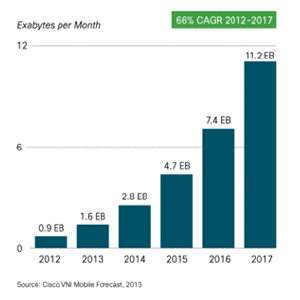 Globally, cloud apps will account for 84 per cent of the total mobile data traffic in 2017,
compared to 74 per cent at the end of 2012.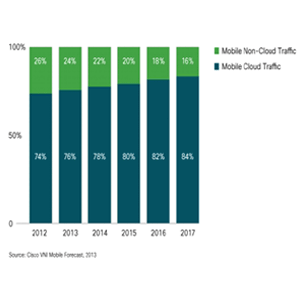 Smartphone & tablets
The overall share of smartphones will increase from 25 per cent of all mobile connections
in 2012 to 50 per cent in 2017. The biggest gain in share will be seen by M2M devices and
smartphones. The highest growth will be in tablet (CAGR of 46 per cent) and M2M (CAGR of
36 per cent) segments.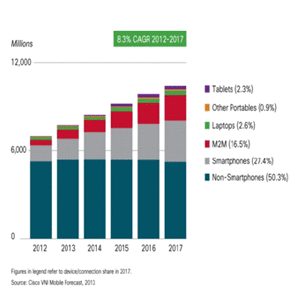 Mobile video
Mobile video will grow at a CAGR of 75 per cent between 2012 and 2017, the highest growth
rate of any mobile app category. Of the monthly 11.2 EB data consumption by mobile networks
by 2017, 7.4 EB will be video data.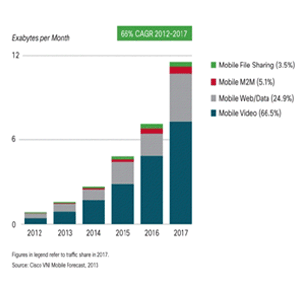 Connectivity: Rise of 3G & 4G
By 2017, only 32 per cent of M2M modules will have 2G connectivity, 59 per cent will have 3G
---