Popular lifestyle and fashion e-tailer Jabong.com has launched another portal called JabongWorld.com to cater to the global market. The sister concern offers a wide range of Indian ethnic wear for women such as sarees, lehengas, salwar suits and dress materials, and products are priced in foreign currencies like euro, UAE dirham, US dollar, Canadian dollar and Sri Lakan rupee.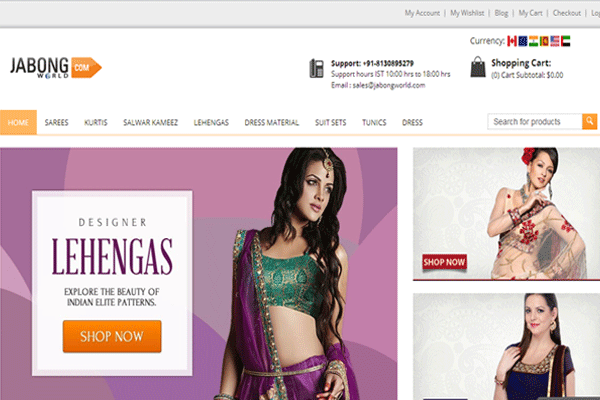 Talking to Techcircle.in, Praveen Sinha, co-founder and managing director of Jabong.com, said that a separate site would help build a product which is more in line with the preferences of global customers. "Also, certain requirements like highlighting different product options, local currency support, shipping and customs computations and international payment gateways can be better addressed through a separate site," he added.
Although the new site is currently offering products for women, the company will also bring in men's wear and designer Indian wear in future, according to Sinha.
The news of Jabong unveiling the new site was first reported by Medianama.
As for global reach, the new site states that it ships to every country. Sinha also said that the company is targeting countries with critical mass of Indian origin people who have medium-to-high purchasing power. "Currently, we are receiving better response from the US, the UK, the Middle East and the South-east Asia," he added.
Asked about the market opportunity for NRIs interested in Indian ethnic wear, Sinha commented that there is a sizeable market. "Currently, there is a gap in the market as quality Indian fashion wear in the mid-price range is not easily available. We expect JabongWorld.com to capitalise on that market," he said.
Interestingly, the recently launched, value-added services arm of Jabong called JaVAS, which deals in customer care and logistics for third party vendors, may go global as well. "That may not happen immediately, but we would like to have global footprint through fulfilment centres in key geographies and JaVAS is an integral part of this strategy," said Sinha.
(Edited by Sanghamitra Mandal)
---