Mumbai-based ViDoc Healthcare Solutions Pvt Ltd, which manages patients' records online for hospitals and clinics, has partnered with 10 hospitals and a few clinics in the city and is currently managing more than one million documents, according to a top executive of the company.
Set up in August 2009 by Jay Mehta (CEO) and his family friend Sandeep Mehta (CTO), the company provides an electronic health records (EHR) service, aiming to improve patient care and efficiency across medical practices. Solutions can be customised to enable the medical fraternity to access patients' records via the internet or intranet.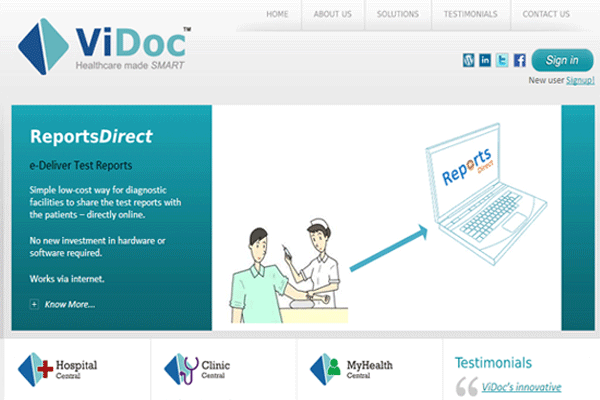 "Our solutions are targeted at hospitals and clinics which daily deal with hundreds of medical records," said Jay. "We offer a B2B platform and aim to reduce the time and efforts required to manage and maintain patients' records," he added.
The concept was born back in 2006 when Jay had to deal with a medical crisis at home. "My father was diagnosed with cancer and I had to deal with a bulk of medical records which ran into hundreds of pages. That's when I wanted to come up with a tech solution which would enable medical practitioners to manage patient records more effectively," said Jay.
An alumnus of Cass Business School, London, Jay had previously worked with INDO-IB Capital Partners and Khandwala Securities. The other co-founder, Sandeep Mehta, is a computer engineer with some 20 years of experience in the IT sector.
ViDoc's service portfolio includes electronic health record management for hospitals, patient record management for clinics and OPDs (out-patient departments), personal health records management and e-delivery of test reports for diagnostic facilities and analytics.
Currently, the company offers six service verticals. While its HospitalCentral solution is used by hospitals that outsource their medical records management to the company, ClinicCentral is targeted at clinics and OPDs. MyHealth Central manages personal health records and ReportsDirect, a SaaS product, is for e-delivery of test reports for patients. Patients will be then given login details by medical facilitators, so that they can view their test results online. The company also offers analytics services for clinical and administrative information and systematic physical storage to organise and store physical records (onsite and offsite).
"We have flexible pricing models for our various solutions. We charge clients, depending on the services they need, essentially aimed at providing customers with value-added ROI," said Jay, but did not disclose the details.
So far, ViDoc has tied up with 10 hospitals and is in talks with a few more. "Large hospitals have around 1,500-2,000 patient discharges per month and we are tapping that opportunity," the CEO said. The company also plans to extend the platform to the B2C segment in future.
A 15-strong team, ViDoc has already started generating revenues and is looking to break even in the next quarter. "Our revenues more than doubled last year and we are now planning to expand geographically, based on the demand we see from large institutional customers and government setups. We may look for VC funding in FY14," said Jay.
Besides online solutions, ViDoc also provides a library-type physical records management service for hospital records. With the help of this service, clients will be able to maintain records at one secure offsite location and can retrieve those on demand. The company also offers logistics services to pick up and deliver physical records.
Jay also noted that offsite, third-party storage of medical records is now common practice. "Several hospitals are already doing it. Plus, there are back-to-back SLAs (service-level agreements) that mandate confidentiality adherence," he pointed out.
"Moreover, to be on the safer side, we encourage our clients to keep sensitive records like medico-legal cases (MLCs) at the hospital premises only. That, too, is a generally accepted practice," added Jay.
The market size for electronic medical records management in the Asia- Pacific is estimated to be over $2 billion and it is expected to grow at about 8 per cent per annum, with major contributions coming from India and China.
According to Jay, a few companies do operate in the same domain, but nobody is providing end-to-end solutions like ViDoc does. "We have some competition in some of the areas we operate in. But our USP is – we are a one-stop shop for hospitals and clinics for managing medical records," he summed up.
(Edited by Sanghamitra Mandal)
---