Delhi-based AaramShop Pvt Ltd, which connects local kirana stores (selling groceries and daily utilities) with buyers and stores inventories on the cloud, has been adding up users and retailers at a fast pace. However, the company has evolved beyond its initial business model and it is now targeting to become a broader sales & marketing platform for brands and retailers.
Set up in April 2011, AaramShop started as a platform for local kirana shops but its service portfolio has been enhanced in line with its extended business strategy. The company now offers targeted advertising for brands via premium pages and strategically placed ads and also provides trend analytics to track purchase behaviour of consumers.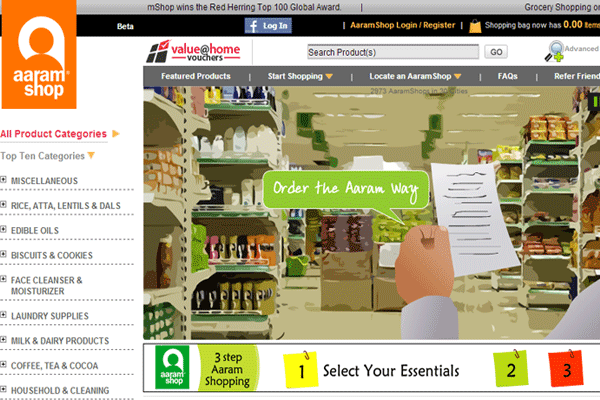 Another new feature that has been recently launched is Aaram TV. The company now places TV monitors in select shops to advertise certain brands and products. The content, stored on a cloud server, is monitored by AaramShop with input and suggestions from retailers regarding the product ads that they want to run in their stores.
"In fact, retailers are not our revenue source. They can register with us for free and list their inventories for a lifetime. There are premium services for which retailers can subscribe but the majority of our revenues come from the brands who have signed up for the premium services," said Vijay Singh, founder and CEO of AaramShop.
The site is adding around 9,000 users per week and currently has a user base of about 2.6 lakh. Last we checked it out was in February 2012 and the user base was around 24,000 at that time. The number of retailers registered with AaramShop has more than doubled as well. It stands at around 3,000 now, from 1,340 in last February. "We plan to take this number to 30,000 by the end of this year," added Singh.
The startup will also come up with more customised services for retailers – so that they can push their own offers and deals on the site. "Most of the time these local retailers don't have a platform to push their offers although they have lots of offers for consumers. So in our new feature, which should be up by March, we will enable retailers to put their own offers on the portal as well," elaborated Singh.
The AaramShop portal currently offers premium services for brands in the form of premium pages where brands can list everything – from ads to offers.
Over the past one year, AaramShop has added some features to the portal and deleted a few. For instance, when the venture kicked off, the company wanted the retailers to regularly update the database with their inventories but it has proved to be difficult. "Now we feature a common database sourced from all registered brands and put an availability score on the products, based on the data shared by the retailers. Some retailers share excel sheets of inventory with us and based on that information, we give a product availability score out of a total 10," the CEO detailed.
The company is also looking to raise external capital this year to support its expansion plans. Singh has funded the company from the very beginning but now that he has validated the concept, he would like to expand further and may look to raise some "intelligent" capital. Although he did not mention the amount, Singh said he would have to choose between seed funding and Series A. As of now, the company is evaluating the options.
Singh also maintained that the traditional e-commerce model was a strict no-no and the company would not go that way in the future. "The e-commerce model is not sustainable for groceries as the margins are way lower than the expenses one has to bear in terms of logistics, warehousing and storing, etc. We are happy to fill the gap in the chain and leaving the inventory storage and delivery part to the local retailers. It's what their forte is anyway," he added.
Queried about the market opportunity, he stated that as of now, local retailers get 60 per cent of the orders in person and 40 per cent on phone. However, AaramShop has opened up a third channel for them and by the end of 2014, it aims to get 5 per cent of the orders received by kirana stores.
(Edited by Sanghamitra Mandal)
---