Metroplots.com closes 300 realty transactions this year; Plans to raise $2 million

Chennai-headquartered Metroplots Pvt Ltd, the company that owns and operates the residential property transaction portal Metroplots.com, has recently revamped the site, introduced value-added features and launched mobile apps for Android and iOS platforms for wider reach. The startup is also looking to raise $2 million within the next six months, which it will invest for expansion – in terms of new services, geographies catered to and the content offered.
Set up by Biju Ashokan in June 2009, Metroplots raised under $1 million in its second round of angel funding in April 2012. The fund was raised from existing investors (who are members of Chennai Angels), as well as from a new investor, Vardhman Jain, managing director (insurance and business process solutions, India & Manila) at Perot Systems.
The investment had been done through compulsorily convertible preferential shares. Existing investors who took part in that round included Sify co-founder R Ramaraj; Sudhakar Ram, chairman & MD of Mastek; Babu Thiagarajan, chairman & CEO of QuScient Technologies, and Rajeev Mecheri, MD at Mecheri Smart Capital.
Prior to starting Metroplots, Ashokan worked with Tata Consultancy Services, HCL Technologies and Project Performance Corporation. He holds a BE degree in Computer Science and Engineering from the University of Madras and an MS in Information Systems Management from Carnegie Mellon University in Pittsburgh, US.
The site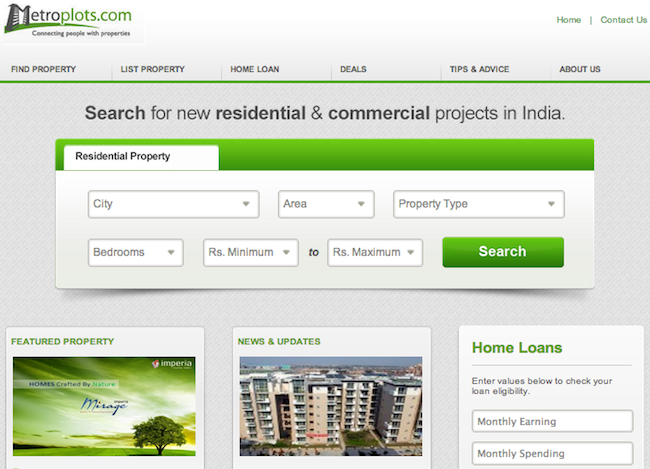 The site helps customers identify and purchase new residential properties. It has a transaction-based service model in place where the company partners with developers and banks to help buyers with home loan applications, loan against property and even personal loans from banks. In turn, it charges a fee (read commission) per transaction from developers, based on the property pricing. As of now, 500-plus projects from more than 150 builders across 27 cities (7 tier I and 20 tier II cities) are listed on the site.
Post the revamp, the site boasts improved search features and a comprehensive results page. It has also added a 'compare' tool (for comparing different properties), an advisory page (with location-specific real estate statistics) and an interactive map (for the mobile site).
"We want to be a one-stop advisory for all things real estate and the previous site was not serving that purpose, hence the revamp," said Ashokan, the founder and CEO. "Going forward, we will continue to introduce new features and also expand the number of properties featured on the site," he added.
The company also has a referral programme that enables users to refer their friends and family and thus get a chance to benefit in case they purchase a property. Well, what is this benefit? One per cent commission of the total value of the property being bought.
"A commission of one per cent is not a small amount (it can go upwards of Rs 1 lakh, depending on the property). The reason we are offering it is that we want to turn all our customers into potential brokers," said Ashokan.
According to him, the site is getting 1.5 lakh visitors (all organic traffic) on a monthly basis, out of which 60 per cent are unique visitors. Plus the firm's mobile site  (it works more like an app) adds another 50,000 visitors to this number. However, the apps have been recently launched and the downloads are, therefore, considerably low. In terms of enquires, the number has doubled from 600 in April last year to 1,200 as of now.
Revenues and expansion plans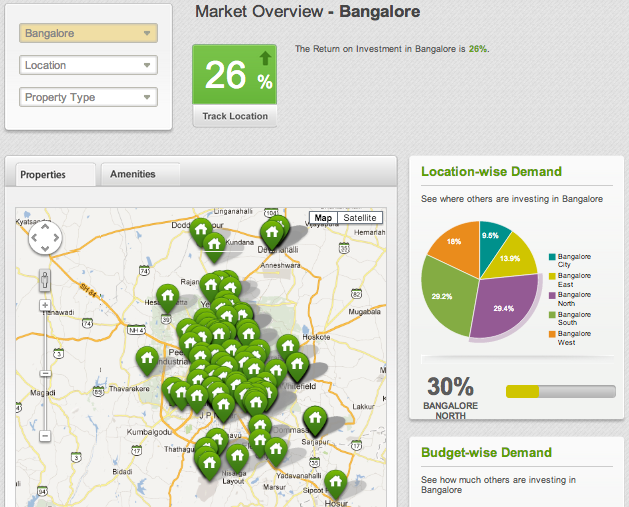 The company did 400 transactions in the first two years (2010 and 2011). "But this financial year, we are already close to 300 transactions, with 2-3 per cent conversion rate from the leads generated," said Ashokan.
For the company, the average ticket size for property transaction in major cities is as follows: Gurgaon – Rs 1-5 crore; Noida – Rs 40-60 lakh; Chennai – Rs 40 lakh-1.5 crore and Bangalore – Rs 60 lakh-2 crore.
As for revenues, the company crossed its target of Rs 1 crore last year. "But this time around, we are looking to at least triple the number," the CEO said.
Going forward, Metroplots will add more features like property renting and reselling, in addition to buying new ones. It is also exploring more growth options and has already tied up with online décor and furnishings store Fabfurnish.com to offer potential buyers an opportunity to decorate their new homes.
Besides Chennai, the company has offices in Bangalore and Gurgaon, but it is also planning to open a new office in Mumbai in the coming months. Due to rising consumer demand, it also added Pune and Mumbai to its property listing in late 2012, instead of early 2013, as was originally planned. Metroplots will add Kolkata and Hyderabad to the mix by the end of March 2013, taking the total number of cities to 29. The current team size is 30 and the company will stick to this number for a while.
"We focus on expanding through technology, instead of people," noted Ashokan. "Most buyers like to do their homework (since purchasing properties is not a trivial expenditure) and they don't necessarily require human support for it; just the right kind of information helps," he concluded.
(Edited by Sanghamitra Mandal)
Comment(s)