Influential short-seller warns of bubble in 3D printers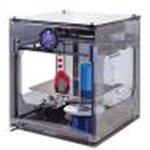 Shares of companies that sell 3D printers fell on Thursday after Citron Research said they were vastly overvalued and that the technology, highlighted this week by U.S. President Barack Obama, has been hyped.
Makers of 3D printers in recent years have turned an evolving technology used by manufacturers for over two decades toward consumers, offering the prospect of producing everything from toys to tools in the home, and sending their share prices soaring.
Citron Research, run by California-based investor and notable short-seller Andrew Left, issued a report on Thursday accusing 3D Systems' Chief Executive Abe Reichental of exaggerating advances in 3D printing and contributing to a bubble in the shares of 3D printing companies.

"Appearances have become completely unhinged from reality when it comes to the mania created in so-called '3D Printing' stocks, and 3D Systems in particular," Citron Research said. "Behind every good bubble there is a good promoter, in this case we have the best in Abe Reichental."
Shares of 3D Systems Corporation, the biggest listed U.S. 3D printer maker, fell. So did shares of Stratasys and ExOne.
Citron Research focuses on stocks it believes have been fraudulently and intentionally overvalued. It said 3D Systems has made no significant advances in 3D printing technology in the past five years and that it has recently rehashed consumer products with little change.

Rock Hill, South Carolina-based 3D Systems and Stratasys declined to comment.
Revolutionary?
Also known as additive manufacturing, 3D printing creates solid objects from a digital model by laying down successive thin layers of material. Under the traditional "subtractive" approach, objects are created by cutting them out of a solid chunk of metal or plastic.

In his State of the Union address on Tuesday, Obama pointed to 3D printing as a technology for manufacturing innovation and said it "has the potential to revolutionize the way we make almost anything."
Shares of 3D printer stocks rallied the next day.
Leading-edge 3D printers are finding new roles in manufacturing, for example, to create product prototypes and other kinds of one-off production.

Companies such as General Electric Co plan to use 3D printing to build lightweight aircraft parts. Dentists use it to create crowns in the space of an hour instead of two weeks.
But today's consumer-level 3D printers can produce little more than egg holders, combs and plastic sex toys, Citron Research said.
Shares of 3D Systems have tripled over the past 12 months and recently traded at more than 42 times the company's expected 12-month earnings.

Shares of Stratasys have almost doubled over the past 12 months. Its stock was recently priced at 39 times expected earnings.
After Citron's report, 3D Systems closed down 4.36 per cent at $62.75 and Stratasys ended 6.08 per cent lower at $71.20. ExOne closed down 2.96 per cent at $27.18.
---