Subscription commerce startup Vellvette secures $500K from India Quotient, others

Mumbai-based Vellvette Lifestyle Pvt Ltd, which runs Vellvette, a subscription-based e-commerce platform for beauty products aimed at Indian women, has secured $500,000 from early-stage investor India Quotient, as well as from Mumbai-based angel investors, Nitin Agarwal and Siddharth Ladsariya.
India Quotient founder Anand Lunia told Techcircle.in Vellvette would use the money to build a technology platform for its customers who subscribe for 'sample' cosmetics. The startup will also build a team to get more samples from global cosmetics brands.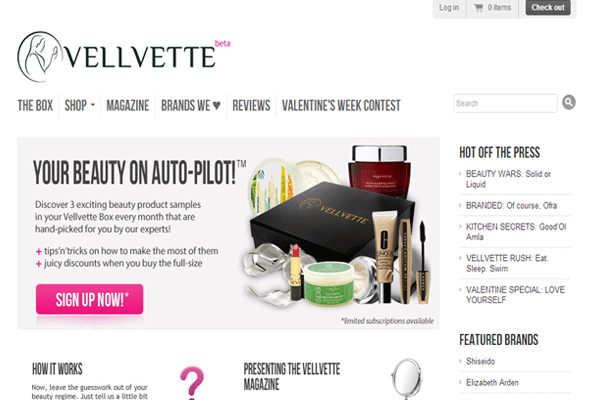 "We believe that the supply chain is broken and most of the brands are not even present in India. Plus, a lot of tech innovation has to be done to engage the buyers properly with the brands and Vellvette. This team understands the challenges, and is fully capable. They had done startups in the past and their IIM/McKinsey background brings in lot of rich experience," said Lunia.
Founded in March 2012 by IIM Ahmedabad alumni Vineeta Singh and Kasuhik Mukherjee, Vellvette follows the business model of US-based BirchBox. The Indian firm generates revenue from its Rs 399 monthly subscription that a customer has to pay to get a box with three premium beauty product samples.
"These samples can be used and they also help one decide whether she wants to buy full-size bottles. For brands, this generates sales and also marketing buzz when Vellvette customers rave about their products on social media. Vellvette makes money because it gets these product samples from the brands free of cost," Lunia explained the revenue model. Lunia explained the revenue model.

Vellvette has eight people on board and currently offers brands like Victoria's Secret, Bath & Body Works and The Body Shop, among others.
Mumbai-based India Quotient invests in early-stage startups which 'are still discovering a revenue model, pricing, product or strategy.' The company invests around Rs 20-200 lakh and picks up 10-25 per cent stake. The company's current portfolio includes Engrave, Red Quanta, IIMJobs.com, Belita and The App Kiosk.
How Vellvette works

You don't have to register as a member to order your first subscription from Vellvette.com. The first time you purchase anything – be it subscription or product – you need to 'proceed as guest.' Once you have placed your order, your account will be automatically generated and hold good for all your future visits.
With a Vellvette Box subscription, the company sends you three deluxe beauty and grooming samples every month which are chosen by the company's beauty experts. You can try those at home and when you buy the full-size versions of your favourites on Vellvette, you will get discounts.
If you have opted for a Vellvette Box subscription, the box of products will be shipped by the end of the third week of the month. All orders above Rs 500 will be shipped for free, but for orders below Rs 500, the company will charge a fee of Rs 49 per delivery.

(Edited by Sanghamitra Mandal)
---