SupportBee, Inc., a Bangalore-based startup offering help desk software to manage customer support e-mail and track support tickets, has bagged around 100 clients in India and the US, a top executive of the company told Techcircle.in. The company is currently adding 15-20 clients a month.
Set up in early 2010 by Prateek Dayal, a graduate from IIT Guwahati, and his friend Nithya Rajaram, the B2B platform became operational only last year. It provides an easy-to-use software solution (the interface looks a lot like Gmail) where companies can assign and track support tickets while everything auto-updates in real time. It can be used by multiple users within a team who can monitor the tickets being marked as 'answered' and also the new queries/replies coming in. Companies need not worry about the hosting platform either, as the startup claims to be taking care of that.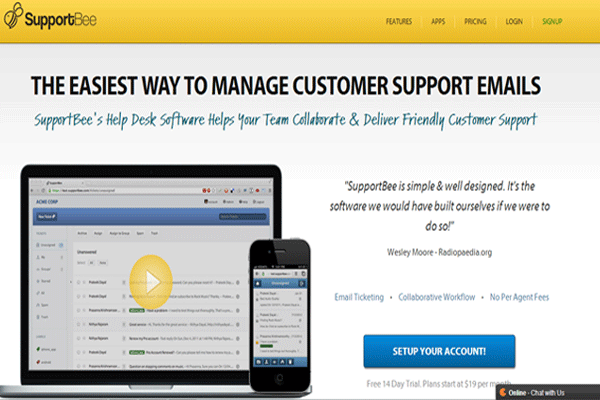 According to Dayal, also the 'chief bee keeper' at SupportBee, the company's key customers include Indian e-commerce firm Fashionandyou, Australia-focused real estate portal iProperty.com, US-based online privacy solutions firm Abine and prepaid card provider The Americas card, among others. It is also one of the 13 technology startups, picked by Microsoft India in 2013 for its second incubation programme – Microsoft Windows Azure Programme.
"One of the biggest disadvantages of several team members sharing a single Gmail account for support is that you need to share a single login," explained Dayal. "The sharing model completely ignores individual preferences and offers no sense of ownership or accountability, thus resulting in an inefficient support process. However, with our platform in place, you can overcome this hassle. It works like a shared Gmail account with each member having one's own login. This way, everybody's action is accounted for and even individual preferences (like enabling or disabling notifications) are respected," he added.
SupportBee's workflow is comparatively simple, though. Tickets generated on this platform are sorted under just two categories – answered and unanswered. Besides, the platform auto-updates and syncs across systems. The platform will also help one customise his/her workflow.
Customers are charged, based on the number of support tickets generated. The pricing starts at $19 for 300 tickets a month and can stretch up to $349 for 15,000 tickets. "You pay more if you have a higher ticket volume. Most of our customers have all their functions on our platform – right from development to support and project management," said Dayal. According to him, the startup has already reached operational break-even and is in talks with a few to raise money.
However, SupportBee won't stop importing your tickets even if you have crossed your monthly limit. In fact, only a new support request is counted as a ticket and back-and-forth e-mail messages on the same support request don't increase the ticket count. The only thing is that you won't be able to reply to those tickets without upgrading the account.
"If it's a temporary spike, you can contact us and we will bump up your limit. Also, if you mark a ticket as spam or trash, it won't be counted as a separate ticket," said Dayal.
The company uses Stripe payment gateway to process payments. "We don't store or even see your credit card details. Stripe stores those securely for us. You can cancel your subscription any time and your data can be exported out using our API," he concluded.
(Edited by Sanghamitra Mandal)
---