Virtual Boards Technologies Pvt Ltd, which runs a social cataloguing platform Kwaab that lets you discover, collect and share your interest and likes with social peers, has raised undisclosed funding from serial investor Vivek Gupta, a top executive of the company told Techcircle.in.
The Gurgaon-based company will use the money for product development to provide an enhanced user experience and help users grow their communities, its cofounder Sudhanshu Aggarwal said.
"Our goal is to provide real social utility through our inspiration graph and drive transactions through social research, reviews and recommendations and ultimately validation of the purchases," added Aggarwal.
Founded in October 2012 by University of Pennsylvania alumnus Aggarwal and Harvard Business School graduate Abhishek Gupta, Kwaab enables users to explore content curated by designers, stylists, boutiques, brands and other shoppers from across the web. On the Kwaab platform, users can create collection of 'likes', 'wants' and 'haves' and share them with people having similar interests.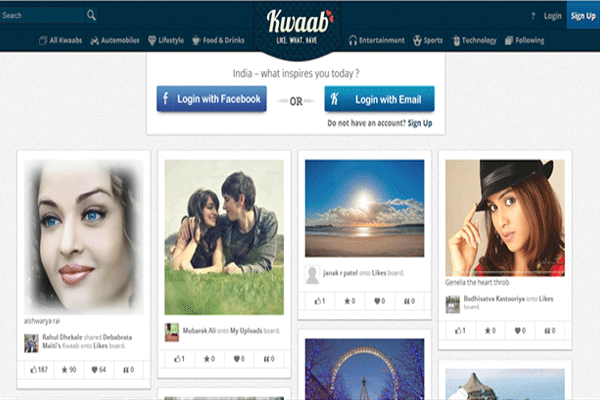 Kwaab says it is not focusing on the revenue model for now. "As of now the focus is to provide a great user experience and help users create a solid inspiration graph. There could be multiple monetisation opportunities – referral network, brands subscription, transactions etc - for Kwaab, but we would allow it to evolve based on how users and brands are best leveraging this platform," said Abhishek Gupta, the other co-founder of the company.
With 10 people on board, Kwaab claims to have around 50,000 people using its platform who have catalogued half-a-million images so far. The platform has more than 25 brands on board.
Prior to starting Kwaab, Aggarwal has worked with Zynga in its San Francisco office as a product manager. He has also co-founded Fizzy Software, a product development and consulting firm, in 2007 that launched engaging applications and games on Facebook and iPhone platforms.
Aggarwal is a Bachelors in Applied Science (Computer Science) with a minor in Engineering Entrepreneurship from the School of Engineering and Applied Sciences at the University of Pennsylvania.
His partner Gupta brings in experience in product strategy, international markets and alliances through his stints at Mentor Graphics, Sasken & Amdocs. Gupta has worked with different early-stage ventures in charting their growth and fund raising strategy.
Vivek Gupta is a seasoned entrepreneur and serial investor who has invested in several startups operating in the mobile and internet space. He is currently CEO at Zamil New Delhi Infrastructure Pvt. Ltd, a company which provides passive infrastructure solutions to wireless telecom players in India and abroad. Previously, he was the country manager- telecom at IBM .
(Edited by Prem Udayabhanu)
---