Wego India to enter bus & taxi booking search soon
Singapore-based travel search site Wego.com, which has recently launched Wego India, is looking to launch more India-focused services this year. The India site will soon come up with a bus and taxi booking search platform and it also claims to be clocking 1 million site visitors for some time now. Plus, the company is looking to double its current team size of 10 in India.
"Wego India has seen a rapid escalation of growth in the country with visits to Wego.co.in tripling since launch and the revenue increasing 446 per cent. Within six months of our independent launch, we have seen a month-on-month increase of 15-20 per cent in terms of site visits. In terms of monthly visits, Wego India has registered 1 million visitors per month for some time now," said Jackson Fernandez, general manager of Wego India, in a conversation with Techcircle.in.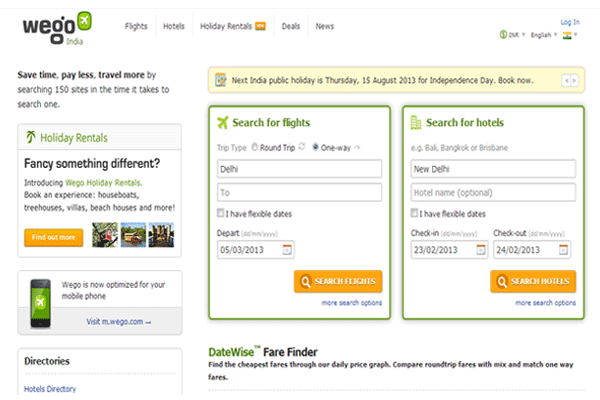 Although Fernandez has not specified the numbers for the Indian portal, he claims that Wego has referred in excess of $1.2 billion in potential bookings to the sites of its travel partners globally. Wego India claims to aggregate information for over 4,000 destinations from 700 travel sites and lists 350,000 hotels & resorts, as well as 400,000 vacation rentals from its recently introduced vacation rentals product.
Started in May 2012, Wego offers a comparison tool for all kind of travel-related searches – from flights to hotels to tour packages and deals – from various Indian OTAs including MakeMyTrip, Yatra and Via, among others. It works like a data aggregator and the search results from various vendors are listed on the platform.
The company has recently launched another vertical called Holiday Rentals, which offers an alternative to regular hotel stay. For this new feature, it has tied up with sites like Stayz, The Villa Guide, Flipkey, HomeAway and Roomanorama.
Wego India also demerged from HolidayIQ recently and post the demerger, Accel Partners exited from the company while Tiger Global retained its shareholding. The deal took place back in 2010.
On the demerger, Fernandez stated, "Wego and HolidayIQ enjoyed a very positive association since 2010 and we continue to do so even after the spin-off with HolidayIQ. It is a valuable and important distribution partner for Wego India."
Earlier this year, Wego also partnered with Sulekha.com, the online classifieds site turned local services marketplace. As part of the deal, Sulekha has launched its sub-site for travel metasearch, using Wego's capabilities.
"Our expectations of 2013 are extremely optimistic. In spite of its well-chronicled challenges, the Indian travel industry is currently going through an interesting phase. Hotels are becoming extremely innovative with online booking strategies and the expected influx of foreign investment into the airline industry should see it transformed. From a customer perspective, Indians are becoming increasingly confident of purchasing products and services online "the year 2012 exposed them to a host of new Indian and international e-commerce websites," observed Fernandez.
Wego India competes with players like iXiGO, Ezeego and niche travel-related sites like Oravel, Travelmob and more. The niche travel segment has seen a lot of interest as more players are entering this space with unique offerings. Asked about other players in the same space, Fernandez said that iXiGO has an early mover advantage but Wego's global presence works as a differentiator for the company. "When we list any of the OTAs, we are presenting it to a global audience. We have a global network and that is our USP," he concluded.
(Edited by Sanghamitra Mandal)
Comment(s)