Touchtalent, a social network for artists, has recently launched its e-commerce platform where artists can sell their works to a global audience.
Founded in July 2012 by Ankit Prasad, a student of IIT Delhi, and run by Delhi-based Talent Unlimited Online Services Pvt Ltd, the platform allows artists to display their creations and share those with like-minded people. Some of the categories on display include animation, calligraphy, comics, craft, design, digital art, fashion, graffiti, literature, music, painting, photography, poetry, singing and sculpting, among others. This month, the company has also launched what it is calling the creative shop where any artist can sell his artwork.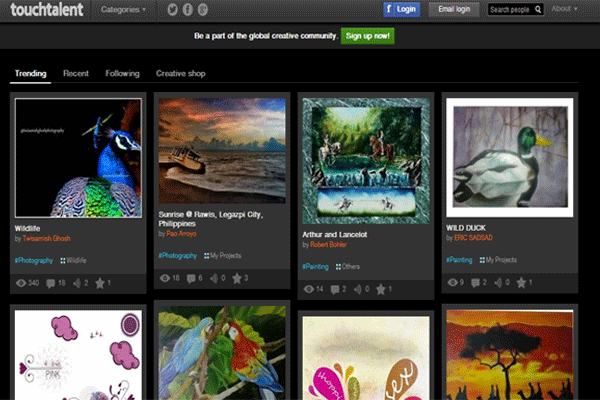 Touchtalent claims to have visitors from more than 150 countries and a user base of 30,000 in the first six months.
"Imagine a seventh standard girl from a remote place near Lucknow getting thousands of views from across the world; or an 83-year-old painter from France getting appreciated in India. That's the kind of potential Touchtalent holds for creative people," said founder and CEO Ankit Prasad. "Through this platform, we not only inspire creativity but also help budding artists to get paid for their creative works. We were amazed to see artists from India, Pakistan, Nepal, Bangladesh and Sri Lanka competing neck and neck with artists from the rest of the world," he added.
Prasad is a fifth year student at IIT Delhi and currently pursuing an integrated M. Tech. in Mathematics & Computing. He had also worked as the chief technical officer at TheWittyShit.com.
Touchtalent has a pleasing, non-cluttered user interface and the home page is a darker version of Pinterest's home page with various arts (paintings, photos, sketches, etc.) listed which users can share, favourite, comment upon or buy. There are user-generated comments, as well as pre-listed 'opinions' like salute, hats off, awesome, you rock and more.
"The target audience comprises people who are creative and can leverage the services offered at Touchtalent. However, our focus is currently on people from the South East Asian countries and the Middle East who do not get much opportunity," said an official statement.
For art shopping, it has a similar payment system like that of eBay. The buyer first pays Touchtalent and only after the company is notified that the product has been received, Touchtalent releases the payment to the seller.
"In the next three years, we aim to grow our user base to 18 million, of which 3 million will be actively creating," detailed Prasad. "Moreover, in the next few months, we are scaling up our services by introducing other new features such as talent quotient, co-creation and improvisation tools, virtual exhibitions, social gifting and more," he added before signing off.
(Edited by Sanghamitra Mandal)
---