Gurgaon-headquartered iYogi Technical Services Pvt Ltd, which provides remote and on-site tech support services and has seen rapid success of its main business in the US, has deferred its IPO plan, according to a top company executive. The company was planning to get listed on a US stock exchange last year, but deferred the move owing to a sluggish market. It is now clocking revenues worth $100 million and looking to expand its reach across Indian and European markets, CEO and founder, Uday Challu, told Techcircle.in.
Commenting on the IPO delay, Challu said, "We had plans of a US listing last year as the market there provided a window for young companies like us. MakeMyTrip listing is one successful example of that. But then, the market turned and we lost that advantage. It is getting better now and once the market is ready, we will go for an IPO."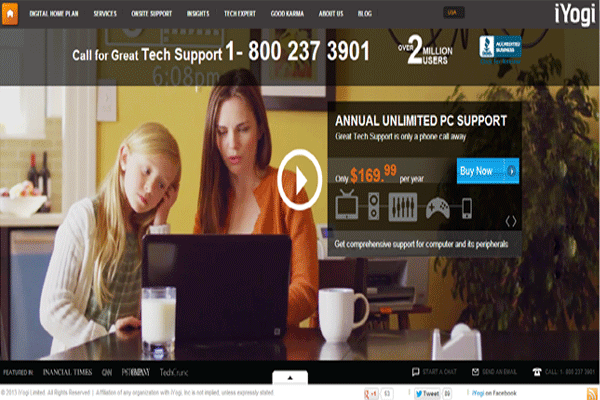 Challu, however, did not specify a timeline, saying that when the US market is ready and iYogi, as a company, is ready to get listed again, it will go for an IPO. "The US is a hot market for consumer technology companies like us and it's attractive to get listed there as you will find similar companies there. India does not have too many companies like us, nor have they reached our scale," he noted.
Players like Geek Squad (a subsidiary of Best Buy, one of the leading US consumer electronics retailers) and PlumChoice compete with iYogi in the US while in India, companies like eTechies have the same profile.
In 2010, the company raised $30 million in Series D funding, led by Sequoia Capital India. Existing investors Canaan Partners, SVB Capital Partners, SAP Ventures and Draper Fisher Jurvetson also took part in that round. The overall funding raised by the company is $58 million. "At present, none of the investors is looking for an exit," said Challu. The funds raised earlier are mostly utilised for enhancing technology support, hiring, overseas expansion and meeting infrastructure costs.
Asked about the next round of funding, Challu said he had no definite plan in mind. "You keep deciding how much capital you need as the company grows. The kind of business we have built requires constant capital infusion. But now the company has reached a scale and is able to finance its growth through internal accruals," he said.
B2B focus and expansion beyond the US
Since its launch in 2007, iYogi has established itself as one of the major subscription help service and provides tech support to both consumers and small businesses. Although its IPO plan has been put on the backburner, it does not hinder the company's expansion plans. The firm, mostly catering to the B2C market till date, is now planning to tap small and medium businesses (SMBs) in a big way across Indian and European markets.
"The US market still generates very significant revenues (around 70-80 per cent) for us, but it will change in the future," noted Challu. "In the next five years, it will still be a substantial market, but we will also have other markets growing. So the market concentration won't be like it is today," he said.
The company has now moved to markets like the UK, Canada and Australia. "We will be entering the Middle East as well and we are already in the process of launching SMB solutions in Europe and India," said Challu.
According to him, the market shift will become more accelerated in the next couple of years and iYogi will now focus on the SMB segment also. During the first five years, the company has focused only on the consumer front.
"It's only this year that we have started focusing on business customers and the B2B as a different strategy. So shortly, we will be launching business services in India with focus on the SMB market. We are doing something similar in Europe and also looking at some other Asian countries to launch our business services," said Challu.
(Edited by Sanghamitra Mandal)
---