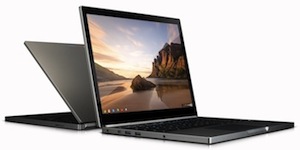 Although Google has already launched (in partnership with Samsung, Acer, Lenovo and HP) a number of Chromebooks, they haven't been too impressive, but all that may change pretty soon. The search company has expanded its Chromebook family and the latest entrant does look promising. The new laptop has been christened Chromebook Pixel and Google claims that it brings together the best in hardware, software and design, to inspire the next generation of Chromebooks.
Starting today, the Pixel will be on sale at the UK and the US Google Play Stores. Plus, it will be soon available on BestBuy.com. The Wi-Fi only version is priced at $1,299 (Rs 70,734) and it will be shipped from next week. The Wi-Fi+LTE version will cost $1,449 (Rs 78,902) and will be shipped in the US from April this year. But there is no information regarding an India launch date or pricing.
Let us have a look at the device specs and how it stacks up against the Apple MacBook Pro with Retina Display.
Display
According to the company, the laptop screen has the highest pixel density, compared to others available in the market. We compared the screen with the famed Retina Display of Apple's MacBook Pro and found that the Chromebook scored a little higher. The 13 inch MacBook Pro with Retina Display features a 13.3 inch (diagonal) LED-backlit display (2560x1600 pixel resolution) with IPS technology at 227 pixels per inch (PPI). But Chromebook Pixel has a 12.85 inch display (2560x1700 pixel resolution) at 239 PPI. Pixel's display is packed with 4.3 million pixels, which will ensure sharp text, vivid colours and extra-wide viewing angles.
Processor, OS & storage
The laptop is powered by a 1.8 GHz dual core Intel Core i5 processor, has Intel HD Graphics 4000 and runs on the Chrome operating system (OS). In comparison, Apple's offering has a 2.5 GHz dual-core Intel Core i5 processor (turbo boost up to 3.1 GHz), has Intel HD Graphics 4000 and runs on the Mac OS. Pixel has 4 GB of RAM and Google has provided 32 GB of storage (solid state drive) in the Wi-Fi only version while the costlier version has 64 GB. In contrast, the MacBook Pro with Retina Display has 8 GB of RAM (double of Pixel) and comes with 128 GB and 256 GB (in the costlier models) of flash storage.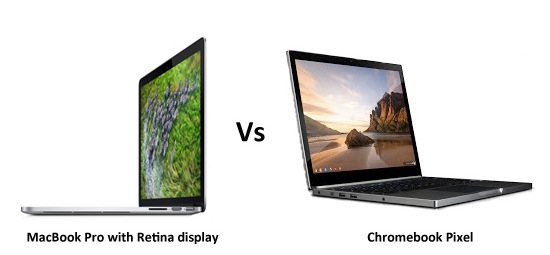 But if you are wondering why Google has provided so little storage, it is because the company is also offering 1 TB of free Google Drive cloud storage with the laptop, which will enable users to save, access and share photos, videos, documents, etc., from all their devices (this is another area where Google scores brownie points). Note that the free storage is only available for three years and starts from the date you redeem the offer on eligible Chrome devices.
Connectivity, dimensions & battery life
On the connectivity front, Pixel has Wi-Fi, Bluetooth, LTE (in the costlier version), two USB 2.0 ports and an SD/MMC card reader while the Apple product comes with Wi-Fi, Bluetooth 4.0, two Thunderbolt ports, two USB 3 ports and an HDMI port (but no LTE).
As for dimension and weight, here is a head to head:
Chromebook Pixel: 297.7 x 224.6 x 16.2 mm, weighs 1.52 kg.
13 inch MacBook Pro with Retina display: 314 x 219 x 19 mm, weighs 1.62 kg.
While Google claims that the laptop will provide up to 5 hours of battery life, Apple is offering 7 hours of battery life (30 per cent more).
Here is a video introducing the laptop.
Other features
Apart from the touchpad and the backlit keyboard for input, Google has also added a Gorilla Glass multi-touchscreen to the laptop. This means users can simply touch the screen to do things like organising tabs, swiping through apps and editing photos. Of course, we can't say right now how useful the touchscreen feature will be (do you really need it in a laptop), but the Apple product doesn't have it.
Pixel's body is made from an anodized aluminum alloy and the touchpad is made from etched glass. The laptop also comes with a 720p webcam and has three microphones, designed to cancel out surrounding noise.
In terms of pricing, Apple's offerings are a tad costlier at $1,499 (Rs 81,624) and $1,699 (Rs 92,515).
Finally, both are quality devices, but it makes sense to test each as thoroughly as possible before buying – after all, they are expensive.
Also, with Pixel out in the market, should Apple's MacBook worry? Not overmuch, we would say.
(Edited by Sanghamitra Mandal)
---