Info Edge invests additional $5.5M in e-learning firm Meritnation, values it at $56M

Info Edge (India) Ltd, the largest consumer internet firm in India by market value, has infused an additional Rs 30 crore ($5.5 million) in Applect Learning Systems, which runs an online education and assessment venture through Meritnation.
The deal values Meritnation at around Rs 303 crore ($56 million), as per Techcircle.in estimates. With the fresh investment, Info Edge's total exposure to Applect has risen to Rs 61.5 crore and it holds around 54 per cent stake in Applect, the company said in the BSE filing.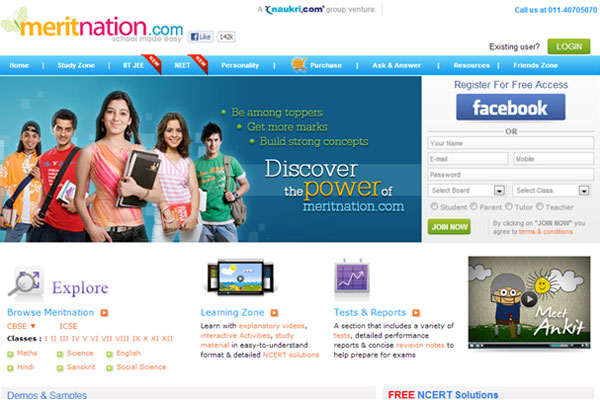 This is the second such investment where Info Edge has taken majority stake in its existing investee. A week ago, the company invested Rs 55 crore ($10.07 million) more in Zomato Media Pvt Ltd, the company that runs Zomato.com, an online food and nightlife guide.
"We have always maintained that we will invest more into those of our current companies which are doing well and where the entrepreneurs would like to raise more money from us. Both these investments are consistent with that previously stated intent," Info Edge CEO Sanjeev Bikhchandani told Techcircle.in, when asked about its investment strategy.
According to Bikhchandani, Info Edge invests as much as its portfolio company requires. It will continue to look for Indian consumer internet startups to invest money, he added.

Info Edge, which runs sites such as Naukri.com and 99acres.com, had invested Rs 20 crore through a mix of equity and convertible preference shares in Applect Learning in September 2011. Prior to that it had put in around Rs 11.5 crore in Applect between 2008-10. Info Edge held 49 per cent stake in Applect prior to the latest investment.
Founded in 2005 by IIM Bangalore alumni Pavan Chauhan and Ritesh Hemrajani, Applect runs a platform Meritnation, which provides courseware to students from classes 1st to 12th in maths, science and English for CBSE, ICSE and other leading state boards. Its offerings also include development of courseware, assessment items, teaching pieces, simulations and conventional training materials.
"Currently the site attracts more than 7,500 new registrations daily. Traffic to the site continues to grow impressively and has grown by 100 per cent over last year. The space offers exciting opportunities to scale up. We will continue to invest to further strengthen our leadership position. The funds will be largely used to build our brand, expand geographically, offer new boards and create new products for existing customers," said Meritnation founder and CEO Pavan Chauhan.

(Edited by Prem Udayabhanu)
---